CLOVIS, Calif. --
The surviving victim of a double murder tells her story as detectives search for a man accused of killing her family.
Authorities said Dave Thomas McCann killed his estranged wife, 36-year-old Tierney Cooper-McCann, and her 68-year-old mother Judith Cooper at their Clovis home.
Two minutes after Cortney Cooper Rider called 911, officers pulled up to a bloody murder scene and found the mother and daughter dead side by side
Cortney first heard the banging and ran to wake everyone up before she says the suspect kicked in the door.
"I went in and grabbed the phone and was getting ready to call 911 and by the time I walked out he was slitting her throat," she said. "He looked at me and said 'you're next,' and I immediately ran out the front door and ran to the next door neighbors."
Cortney says her brother-in-law was out to get her and her mother.
"My mom was hiding in the bedroom, having it locked," she explained. "And he busted down the door after not being able to catch me. He went back to the house, he slit my mom's throat in the back bedroom."
Rider was the only one to escape.
Just before 3 a.m. on Wednesday, Clovis police tweeted a statement confirming the capture of David McCann, who they've been tracking since Saturday.
#UPDATE to Double Homicide Investigation-5/11/16 - 2:54AM- SUSPECT IS IN CUSTODY! Press Conference @ 630AM at Seaside PD with Chief Basgall!

— Clovis Police (@ClovisPolice_CA) May 11, 2016
Police said they received a tip that McCann was able to get a ride from the Big Sur area on Sunday night to the Seaside area. Police said they began searching homeless encampments in the area and a transient was able to lead police directly to where McCann was sleeping -- behind a fence near a bicycle trail.
The search led police to Paso Robles late Saturday where they say he abandoned the moving truck he was last seen in. Police spent much of the last two days on the central coast.
On Tuesday, investigators were in Cambria -- where he was last spotted on foot -- that's about 100 miles away from Seaside where police are holding a press conference today.
These were the first and second homicides of the year for the City of Clovis.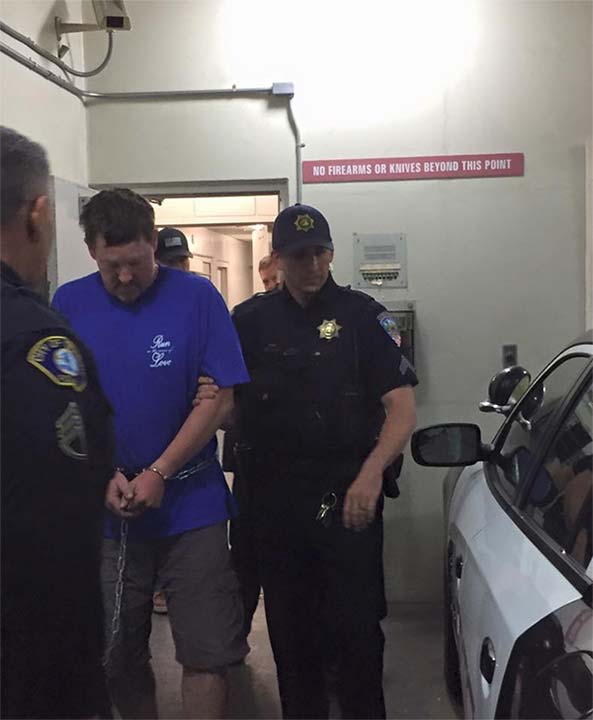 Family members said a failing marriage and a folding business, may only partly explain, what caused McCann to snap.
The website of McCann's former company now officially said they're closed.
Tierney worked at Community Regional Medical Center doing what loved ones say she was so good at, helping others.
Monday morning, the CEO of the hospital remembered her before a press conference marking hospital week.
"Over the weekend, we lost a dear CRMC family member, Tierney Cooper-McCann," CEO Craig Wagoner told the gathered crowd. "She's a child life specialist here in our burn center. I would like for you all to join me to join me in a moment of silence for Tierney."
While family members are mourning the sudden and shocking death of a daughter and mother, Clovis police are still searching for the McCann.
Family members and friends fear he could be coming back to the Central Valley.
"He has lost his mind and I'm really concerned. Not only for myself and for my family members but I'm really concerned for the community at large," said Rider.
Cortney always knew her sister was strong, and, even in her dying moments, Tierney managed to show the ultimate strength and care for her mother.
"My sister, even after her throat being slit, was able to, after he left, walk back to the back bedroom and lay with my mom and they died together," she said.