CHICAGO (WLS) --
The 58th Annual Chicago Air and Water Show got off to a late start on the lakefront Saturday because of a weather delay.
The show was originally set to start at 10 a.m., but scattered storms moving through the area forced the delay until around 11:15 a.m. Free to the public, the official show takes place Saturday and Sunday on Lake Michigan from Fullerton to Oak Street. North Avenue Beach serves as the show's center.
The show was originally scheduled to end at 3 p.m., but may be extended because of the delay. On Sunday, the show is scheduled to run from 10 a.m. until 3 p.m.
People showed up early to North Avenue Beach prepared for the inclement weather with umbrellas and ponchos.
VIDEO CREDIT: 360 VR Video Production
Organizers said that they have a great show planned and are prepared for the weather. The F-35, Sean Tucker, the U.S. Army Parachute Team Golden Knights and the U.S. Navy Parachute Team Leap Frogs were among the participants on Saturday in an abbreviated show.
Former Bear Charles Tillman was scheduled to jump with the Golden Knights to start the show Saturday, but it was pushed back until Sunday because of the delay.
The Office of Emergency Management is on site for this weekend's show to monitor the weather conditions and clear the beach when necessary. Air and Water Show Manager John Trick also keeps a close eye on the weather.
"We're constantly monitoring the weather and we keep tabs on it," Trick said. "Several hours out, we know if it's going to be a bad storm. We've got our emergency plan in place that we can evacuate the beach area."
A crowd of several hundred thousand people is expected this weekend.
"Public safety is number one in our books," said David Kennedy with the Chicago Department of Cultural Affairs and Special Events. "We work with our first responders that are up and down the lakefront. We've got a public address system that is also able to reach people. We've got an alert system that we can update people if they signed up for that via text for via email."
Doppler 7 MAX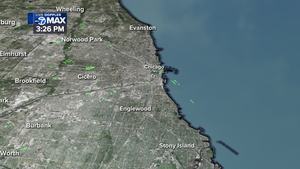 CLICK HERE to see the latest radar view from LIVE Doppler 7 MAX
Announcements will be made at North Avenue Beach for all weather delays.
On Friday, a practice run of the show gave people waiting below on North Avenue Beach a preview of some of the planes, jets, and tricks these pilots can pull off. Every year the air and water show tries to introduce something new to impress the crowd.
"The F-35 is new this year," said Trick. "That's our new plane that's making its debut around the country. We're honored to have it at the Air and Water Show this year. It is probably the most high-tech plane that's out in the air right now...stealth the armament, all of the advanced warning systems on it at air shows, it's supposed to be the superior plane in the world right now," and this year is no different.
The Air Force Thunderbirds flew low over the crowd as they planned out this weekend's runs. Also planned -- a tribute to the Army Golden Knights parachutist Master Sergeant Corey Hood, who died during a jump in last year's show.
"They're skilled, it was just a freak accident that happened and the men and women of the military, they put their lives at risk for everything, training shows or in warfare," said Trick.
Johnny James hasn't missed an Air and Water Show in 40 years.
"It's summer you better get out there and enjoy because winter's right around the corner," he said.
For more information on the Chicago Air and Water Show, visit
www.chicagoairandwatershow.us
.
Watch highlights from the Chicago Air and Water Show on ABC7 at 11 p.m. Sunday, hosted by Tracy Butler and Jerry Taft.