CHICAGO (WLS) -- One person is dead and 14 people are injured after four tornadoes were reported near Ottawa, Ill., the Ottawa Fire Department said. Strong to severe storms produced large hail, high winds and heavy damage across the area Tuesday.
A total of 14 people were taken to OSF Saint Elizabeth Medical Center in Ottawa for storm-related injuries. A hospital spokesperson said several injuries were the result of falling tree limbs and the inability of drivers to see as they traveled home.
Two people were taken to OSF Saint Francis in Peoria in critical condition. Everyone else was checked and released, the spokesperson said.
Displaced residents are encouraged to go to the Love Gym at Ottawa Township High School. The American Red Cross is also working closely with local authorities and have set up at least two shelters in the Ottawa-Utica area, according to James Joseph, Illinois Emergency Management Agency.
The Red Cross has set up shelters and canteen services at Ottawa High School at 211 E Main St, Ottawa, as well as helping set up a reception center at Waltham School at 248 W Canal St, North Utica.
Doppler 7 MAX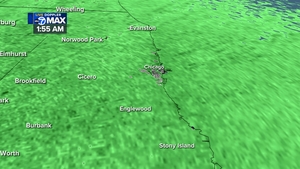 CLICK HERE to see the latest radar view from LIVE Doppler 7 MAX
Multiple tornadoes were reported on the ground, all in and around the area of Ottawa in La Salle County, Ill. Tornadoes were reported in Standard, Ottawa, Marseilles and Morris between 4 p.m. and 5:30 p.m.
MAJOR DAMAGE REPORTED IN OTTAWA AND NAPLATE
Downed trees, broken windows, widespread power outages and gas leaks were reported by residents of Ottawa and Naplate. Ameren Utility Company, which handles electricity for the area, reported about 7,400 customers were without power in the Ottawa-Naplate area and surrounding towns.
The Ottawa Fire Department requested assistance from nearby fire departments to help them respond to the storm. Governor Bruce Rauner activated the State Emergency Operations Center to help with the response. Rauner said he will survey the tornado damage in Ottawa at 9:30 a.m. on Wednesday.
Peggy Foltynewicz was on her way home when the tornadoes hit. She said lightning hit electrical polls in her neighborhood, causing explosions like fireworks. Then, she said, she was trapped.
"I couldn't get in the garage because of the electricity so I pulled alongside of the garage and then the wind started, and then the tornado started coming through. Debris everywhere. I took shelter between my car and my garage. The neighbors, all their stuff came over on my side and hit me, but that's okay. I'm alive. It was scary," she said.
Foltynewicz said she prayed to live as the tornado passed, then immediately took shelter inside.
"I hung onto my car, because it was still windy, but then the debris quit, and then the wind died down, and then it hailed, and then I got into the house and I went directly into the basement," she said.
Christine Carberry was on her way home with her 10-year-old son on the north side of Ottawa when the storm hit.
"The sky turned green and then all of a sudden the wind was brutal, to say the least, so as soon as we got to the house I grabbed my son and we ran and huddled in the bathroom," she said.
The cleanup began immediately, as crews removed trees that fell over into the street and onto power lines. Several trees crashed into homes and garages.
Damage was also reported near the La Salle County Nursing Home west of Ottawa. The nursing home tweeted that everybody is fine.
Reports of hail ranged from penny to baseball sized. Quarter-sized hail was reported in Joliet and baseball-sized hail was reported in Ottawa.
The tiny town of Naplate isn't the same place it was Tuesday morning. Everything changed in not much longer than a heartbeat.
"I've been through hell. I live in an upstairs apartment, had to get in the bathtub to survive," said Penny, a Naplate resident.
Wednesday the people in Naplate, population only 620, woke up to find their world upended. Officials said at least 50 homes were badly damaged.
"I'm 65 years old, I'm retired, I may just have to move on," said Mike McGrath, a Naplate resident.
They'll move on together, just as they survived together.
FLOODING TRAPS CARS IN CHICAGO SUBURBS
In south suburban Homewood, one downpour after another caught drivers off guard. At least two cars had to be towed from the flooded viaduct at Park Avenue and Dixie Highway.
In one of those incidents, firefighters had to be called in to help a woman and her child out of their car. The water level was up to the car's license plate and high enough for the vehicle to stall. The mother and child were not injured.
All night drivers described extremely treacherous road conditions.
"It was blowing rain, heavy, real scary at one point. It almost looks like the clouds went from light to dark. The phone came up with a tornado warning, so you know, kind of worried about something like that, but it's all in God's hands, but we made it through," one driver said.
Water receded, but then another downpour caused it to flood again and another car got stuck. The driver said the water did not look as high as it actually was.
The lesson: Don't chance it. Driving through this kind of water isn't worth it.
CLICK HERE for the latest 7-day outlook from the First Alert Weather Team: