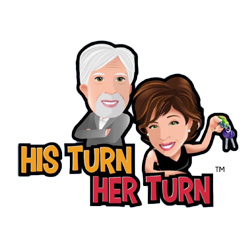 More than 30 million viewing minutes have been realized by those who have watched the duo's male-female review of the industry's newest products, all produced in exciting and highly visual backdrops around the globe.
Paul Brian's acerbic sense of humor is well-paired with Lauren Fix, and together they enjoy two perspectives on not only vehicles, but the automotive industry and issues-and do so in a totally relatable manner to their vast audiences. Adding an occasional twist, if the duo finds interesting "road food" along the way, you can count on Paul to initiate an immediate detour for anything from gas station sushi and flash-fried gizzards to.... well, damn near anything!
The chemistry Brian and Fix enjoy would take decades to cultivate if they didn't know each other for decades already-and respect each other's often differing opinions. After all, it's called "His Turn-Her Turn." Watch a few reviews and we guarantee you'll get hooked.
Visit: www.histurnherturn.com to check out all their exciting videos.
His Turn
Paul Brian
Paul Brian is regarded as one of our nation's best-known, respected and in-demand automotive industry and subject matter experts.
His background spans more than 30 years, including long stints on both the media side and inside of the auto industry. From heading the communications and marketing team for the Chicago Auto Show to management in the Alfa Romeo Indy Car team to 20 years of his "Drive Chicago" radio show on WLS Chicago, Paul's name is synonymous with the auto industry in the Windy City, the Midwest and the nation. He is a jury member for the North American Car and Truck of the Year Awards (NACTOY) and served president of the Midwest Automotive Media Association.
Paul is U.S. Army veteran, a founding director of the Allen J. Lynch Medal of Honor Veterans Program, and a proud member of the Sheridan Chapter of the 1st Cavalry Division Alumni Association. He's an accomplished home chef, enthusiastic golfer, avid "foodie" and was the winner of the 1983 World Championship Chili Cook-off in Terlingua, Texas.
Her Turn
Lauren Fix
Automotive expert Lauren Fix has earned the title nearly everyone knows her as: The Car Coach. Recognized throughout all forms of media as a woman with in-depth automotive knowledge, advice, news and trends, Lauren is a confident and trusted source for men and women alike. Simply put, she eats, sleeps, drinks and breathes cars, and has since she turned wrenches as a teen earning an ASE certification. She is also a member of the Society of Automotive Engineers.
Most likely you've already seen her on scores of national news programs, The Oprah Winfrey Show, lifestyle shows, the Weather Channel and Inside Edition, or heard her on regular weekly radio appearances. Her deep understanding of automobiles has made her a highly respected and insightful "go to" source for news and analysis. She's authored three successful books and established not just a foothold, but a nationally recognized presence as an opinion leader. Like her video partner, Lauren is a member of the North American Car and Truck of the Year Jury and currently serves as an officer for the organization.
She's not simply the automotive version of a food critic, though, as she regularly takes her place behind the wheel of an 850 horsepower Jaguar TransAm race car and isn't afraid to push it past the 175 mph mark in the Sportscar Vintage Racing Association. A rare find, Lauren is an authority who helps drivers and consumers get what they want and need, love their choices, and learn to love their cars.
For more information visit: www.histurnherturn.com