CHICAGO (WLS) -- A light dusting of snow and falling temperatures created icy roads early Tuesday morning in the Chicago area.
DOWNLOAD THE APP:
ABC7 Chicago Weather App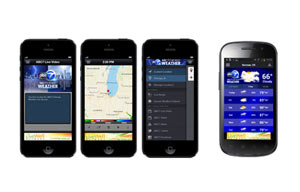 Temperatures that started in the 20s Tuesday were expected to fall slowly to the single digits in the Chicago area.
The high temperature for Tuesday was 22 degrees. That occurred in the early morning hours. This week's temperatures will be the coldest the area has seen all season. Wind chills are expected to fall below zero.
As a deep freeze gets ready to take over Chicago this week, folks are layering up and doing everything they can to limit their exposure to the elements.
"Lots of layers. I have layers under here. I have my nice thick coat on," said Rebecca Adewumi.
"I try not to spend that much time outside but when I do I enjoy it," said Denise Woodard.
But not everyone has a choice; many people have jobs that require them to be outside even in the extreme cold. Construction workers have it especially hard.
"You have to plan accordingly. Right now we have a job on a 52nd floor. On a balcony there. So if it's super cold and super windy, we won't do that," said construction worker Brian Jones.
At Rush University Hospital's Emergency Department, they're already seeing an increase in people coming in for falls. But it's hypothermia and frostbite that they're especially concerned about this week, particularly for those with certain illnesses.
"Patients who, for example, have diabetes have very poor circulation so they don't feel the cold necessarily, they don't think they're exposed and then they come with significant injuries," said Dr. Yanina Purim Shem-Tov.
And don't forget your pets. As temperatures plunge and the amount of salt on the sidewalks increases, it's important to limit our four-legged friends' exposure to the elements as well.
"He's been okay. It's his first snow, he's so young. For the cold, we put a vest on him when it's really cold," said pet owner Cory Hooker.
Before the deep freeze sets in, it's crucial to check your home's furnaces and warming systems as well.
"If it locks up, that's the first thing that happens when the furnace comes on, so if that motor doesn't come on nothing else is going to happen," said Rick Droesch, service tech for Four Seasons Heating and AC.
And it's not just furnaces that need to be checked.
"Every year a furnace cleaned and checked. Same thing with boilers. We check the water heaters too when we come out," Droesch said.
As the temperatures dip, Chicago residents should check on their loved ones and neighbors. Anyone who needs a warming center should call 311 to find the closest available.
ICY ROADS CAUSE SPIN-OUTS, CRASHES
Chopper 7HD flew over at least eight crashes along I-80/94 in northwest Indiana before 6 a.m. No serious injuries were reported in those incidents.
Three cars and two semis spun out on an icy bridge on westbound I-80/94 near Central around 7:15 a.m. A car and a semi crashed on the eastbound side of the interstate at the same location.
Indiana State Police said between I-80/94 and I-65, there were at least 40 crashes during the morning commute.
That stretch of interstate is notorious for accidents when the weather gets bad.
One driver called police after thinking their car had been shot by a bullet only to find that a chunk of ice had hit their back windshield and left a large hole.
CLICK HERE for the latest 7-day outlook from the First Alert Weather Team:
Metra crews worked all morning Tuesday to keep trains on schedule.
One of the ways to do that is to light fires to keep switches warm. A few years ago, Metra installed covers on some the switches that help amplify heat.
The rail service also used alternative schedules on the extreme cold days to help keep trains running on time.