AURORA, Ill. (WLS) -- Cleanup crews are working inside the Air Route Control Center in Aurora after fire, smoke and water left the place quite a mess. Technical crews are still trying to assess the damage and determine how long it will take to fix it.
Brian Howard, 36, of Naperville has been charged with one felony count of Destruction of Aircraft or Aircraft Facilities after he allegedly set a fire in the basement of an Aurora FAA facility, cut the feeds to the radar and damaged the communications system, forcing a ground stop at Chicago's O'Hare and Midway international airports, the FBI says.
Investigators say Howard managed to do extensive damage to the host computer, as well as the lines to radar in the facility. The Air Route Control Center monitors high altitude aircraft before landing in Chicago or flying through the area.
PHOTOS: Fire at regional FAA facility grounds Chicago flights
Much of that work is being handled for the time being by other facilities in surrounding states, but at a much more limited capacity. Experts say the thousands of flights cancelled and delayed today had a definite negative impact on the economy.
Illinois Senator Mark Kirk said in a statement tonight, "I want to see not only an immediate review by the FAA of the screening process....but also a report within 30 days outlining changes the FAA will make to prevent any one individual from having this type of impact on the heart of the United States economy."
Authorities have stressed all day they believe this was an isolated incident and that Howard acted alone.
"This is a local issue with a contract employee," Aurora Police Chief Greg Thomas said. "There is no terrorist act."
VIDEO: Nothing unusual in suspect's record, officials say
According to the criminal complaint, Howard allegedly entered the FAA facility at approximately 5:06 a.m. with a black hard-sided roller board suit case. The complaint alleges that at approximately 5:36 a.m., a message appeared on a Facebook account in Howard's name that contained a reference to the three-letter call number for the facility. The message was forwarded to law enforcement.
The complaint says paramedics from the Aurora Fire Department then responded to a 911 call placed at approximately 5:42 a.m. by an individual at the FAA center. Paramedics entered the basement and followed a trail of blood that led them to Howard, officials said.
"They covered him, attempted to get him out of the building. There was some degree of effort on their part to drag him out of the building. But he was conscious. And as far as being cooperative, I would say not necessarily. They had to fight with him physically," Aurora Fire Department Chief John Lehman said.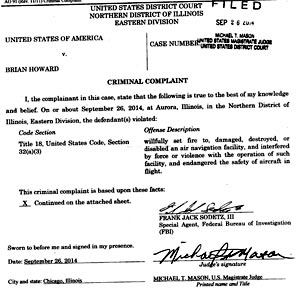 You can read the complaint in its entirety here.
Howard remains hospitalized with self-inflicted stab wounds and is under police guard.
Howard had worked for the Control Center as a contract employee for approximately eight years, according to the complaint. Howard was authorized to be in the building, officials said. No firearms were found on the scene, Thomas said.
Howard had intimate knowledge of the building and radar system. According to ABC7 sources, he cut every radar feed to FAA air controllers before setting gas-soaked rags on fire near sensitive equipment and also damaged the communications system.
Naperville police said he also made suicidal threats, prompting his family to ask for a well-being check Friday morning at his Naperville apartment. After speaking with Aurora officials, Naperville officers searched his apartment and found no victims, police said.
Police said Howard had no real record, only a few minor traffic citations from 2007. Sources said he was angry he was going to be transferred with work to Hawaii.
"We don't know what his motive was at this point, and so the evidence is still being collected," Tom Ahern, ATF spokesperson, said.
"The scene is being worked, as with any investigation would, trying to gather all the evidence, interview all the people, collect all the information so we know what's going on," Thomas said.
Officials said there could be days of potential radar outages at the Aurora facility, which could result in significant flight delays in the Great Lakes region. Without the Aurora facility, planes are moving in and out of Chicago at a "reduced rate" after airspace management was transferred to adjacent FAA facilities.
VIDEO: FAA facility's impact
There are only three routes out of Chicago right now: east toward South Bend, north to Milwaukee, and west to Rockford. Planes have to stay at a lower altitude for a longer time to maintain contact with those smaller facilities, which can only handle about 25 percent of normal operations.
The FAA is beefing up staffing at those facilities and others in the area, and has not said when the repairs will be made to the Aurora building and when controllers can come back to work.
Hundreds of Chicago flights were canceled, delayed and re-routed Friday. Airlines are urging travelers to check the status of their flights at
www.fly.faa.gov
.