CHICAGO (WLS) -- Dense fog and a rainy start made for a tricky commute Tuesday morning. Drivers were advised to build extra time into their trip and keep an eye out for flooded streets.
A Flood Warning was in effect for the Chicago region until 7:45 a.m., according to the National Weather Service. A Dense Fog Advisory for the region ended at 5:45 a.m. A Dense Fog Advisory for the lakefront was scheduled to expire at noon Tuesday.
Heavy rainfall combined with runoff caused by frozen ground conditions may have resulted in flooding in parts of Cook, DuPage and Will counties, the weather service said. Areas near small creeks and streams were especially at risk for flooding, along with drainage areas and low-lying spots on streets and highways. Police in north suburban Park Ridge reported flooding on several streets Tuesday morning.
DOWNLOAD THE APP:
ABC7 Chicago Weather App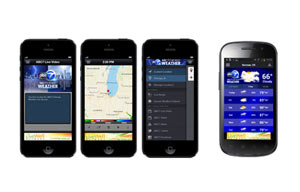 The dense fog that rolled in overnight was expected to linger in the region throughout the morning, reducing visibility to a quarter-mile or less, according to the weather service. Flooded roads combined with the reduced visibility caused by the fog may have created hazardous driving conditions for some drivers during the morning commute.
Visibility was just under 100 yards on I-55 in southwest suburban Naperville. The fog looked like pea soup. Officials said there was a lot of lightning and significant rainfall in the area overnight.
A source said lightning struck part of a home on College Road near 75th Street that was under construction. The flames were contained to the attic space of the detached coach house. Firefighters at the scene said no one was hurt.
High temperatures were expected to be in the 40s on Tuesday. Occasional drizzle was expected. Bright skies are expected Wednesday and highs will be in the mid-40s. The Chicago area's next chance for rain will be on Friday.
CLICK HERE for the latest 7-day outlook from the First Alert Weather Team:
The Sun-Times Media Wire contributed to this report.