FAYETTEVILLE, N.C. -- If you ask Panthers' quarterback Cam Newton and Fayetteville Army veteran Mike Dobs what their banner beef is all about, they'll tell you the same thing.
It boils down to disrespect.
"I followed all the rules that you gave me, and if you didn't want it, I would've taken it back to my hotel room and still would've had it," said Dobs. "No big deal. But this is (not) the way to treat me and my family."
"I feel it's my due diligence to protect this house," Newton said in a post-game interview Sunday.
Dobs is a retired Command Sergeant Major and Wisconsin native living in Fayetteville. Sunday was the Salute to Service game at Bank of America Stadium in Charlotte, where the undefeated Panthers took on the Dobs' favorite team, the Green Bay Packers.
Dobs saved up the entire year to attend the veteran salute game, dropping $3,700 on tickets for his family of five, including his 82nd Airborne soldier son, wife, daughter, and son-in-law.
With him, Dobs took his mancave prized-possession - a giant banner with a green sketch of the state of North Carolina. The Packers tribute reads "North Carolina Cheesehead," and is stamped with a "G" in the middle of the state.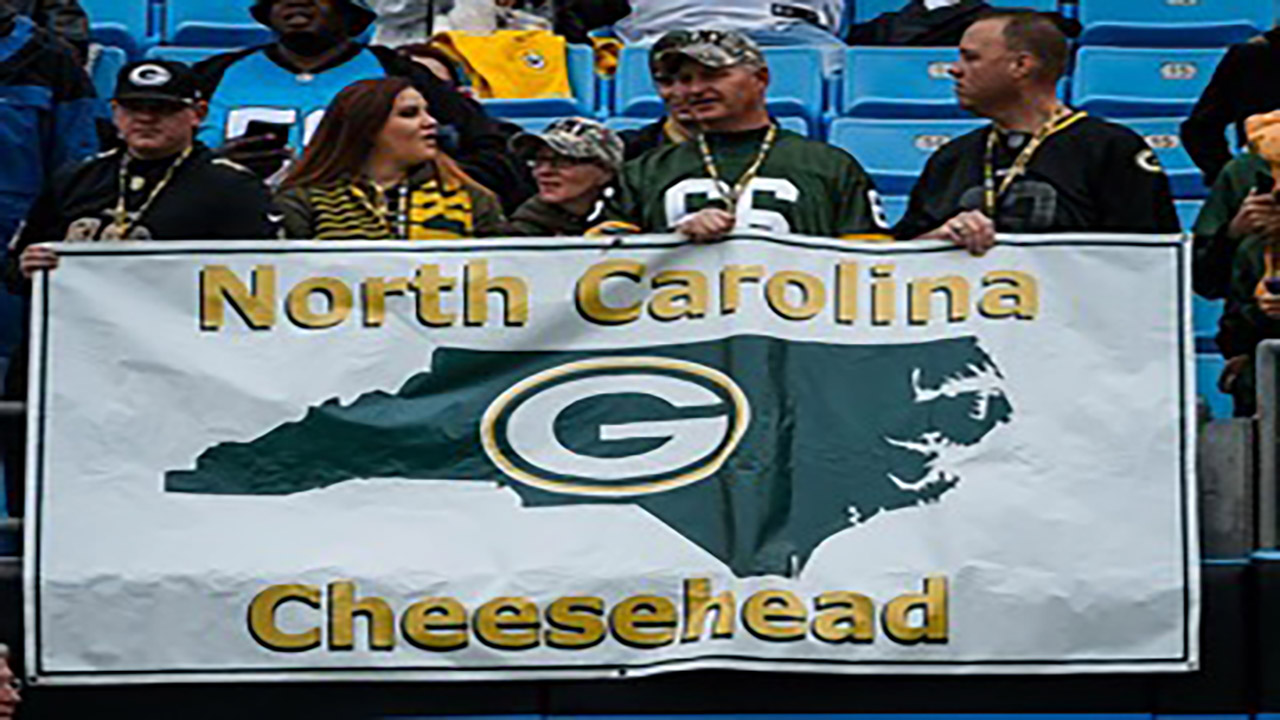 Prior to the game, Dobs said he and his son made sure to go straight to BOA and get pre-approval to waive the banner during the game.
They arrived to the stadium two hours early, headed to their Row 1 seats, and that's where the staff went over the rules for displaying the banner.
"And we said, 'Hey, we're just going to raise it so our grandkids can see it (on TV)," Dobs explained. "That's it."
When Dobs and other fans spotted Cam Newton on the field, Dobs said they got excited. Then Newton started running in their direction. Dobs said he thought he was about to get a pregame autograph.
"He ran toward us, and we were like, 'Yeah, Cam!' And then he ripped the banner out of our hands," Dobs said. "Everyone, Panther and Packer fans, were shocked. And we said, 'OK, it had to be a joke,' but then he didn't come back," Dobs said.
Dobs said he went to report the incident to the customer relations staff that approved his banner and explained the rules to him prior to the game.
"I told them I want my banner back," Dobs said. "If you don't want it up, just give it back or put it somewhere and I'll just return it afterwards, but I had prior permission for this."
When Dobs returned to his seats, he said he was met by six police officers who were there to take an incident report.
He filed theft charges against Newton after quickly realizing it was too late to get the $500 banner back.
"One of the gentleman said, 'Cam Newton took it to the locker room and destroyed it,'" recalled Dobs. "I was shocked because that was the one thing that I wanted to prevent by following all of the policies, all the procedures. Going through everything that you asked me to do, and then you steal my property."
Dobs, who said he would have been more than happy to take down the sign at Newton's request, said the Panthers organization responded immediately and offered the family new seats.
When they realized Dobs' family already had prime seats, he said a Panthers executive assured him they'd "make it up to him in some way."
But Newton's post-game interview irked Dobs, who became a part of a viral story by the time he and his family returned to Fayetteville late Sunday night.
"It wasn't necessarily about tearing down the sign," Newton told reporters. "It was about respect. You know, we played in Green Bay last year, and I didn't see no 'this is Panther Country' sign in their stadium."
"I was passing, the sign was dangling," Newton continued. "Either somebody was going to have to take it off or I take it off."
Newton likened the gesture to crossing the territorial lines of a gang or business.
"I mean, you're not about to sell a Whopper at no McDonald's, you know what I'm saying?" Newton added as reporters chuckled.
"As a professional that gets paid to play a game? And to refer to it as protecting his turf... like a gang, or to say we're going to war," said Dobs. "I've been to war. That's a game you're playing, that you're getting paid for. So don't even say stuff like that."
"I paid. I'm your customer," Dobs continued. "I paid for you, and you steal my property and disrespect (me)... and then you try to spin the story in many different ways."
Dobs noted the gesture was an extra slap in the face during a game to honor veterans.
"If he wants to see heroes come visit true heroes, come see what life is about," said Dobs. "And that's what makes me mad. You can say that you support the veterans and let all the balloons go wild, but do you really support? 'Cause you just disrespected me. And you knew I was a vet because I had the hat on."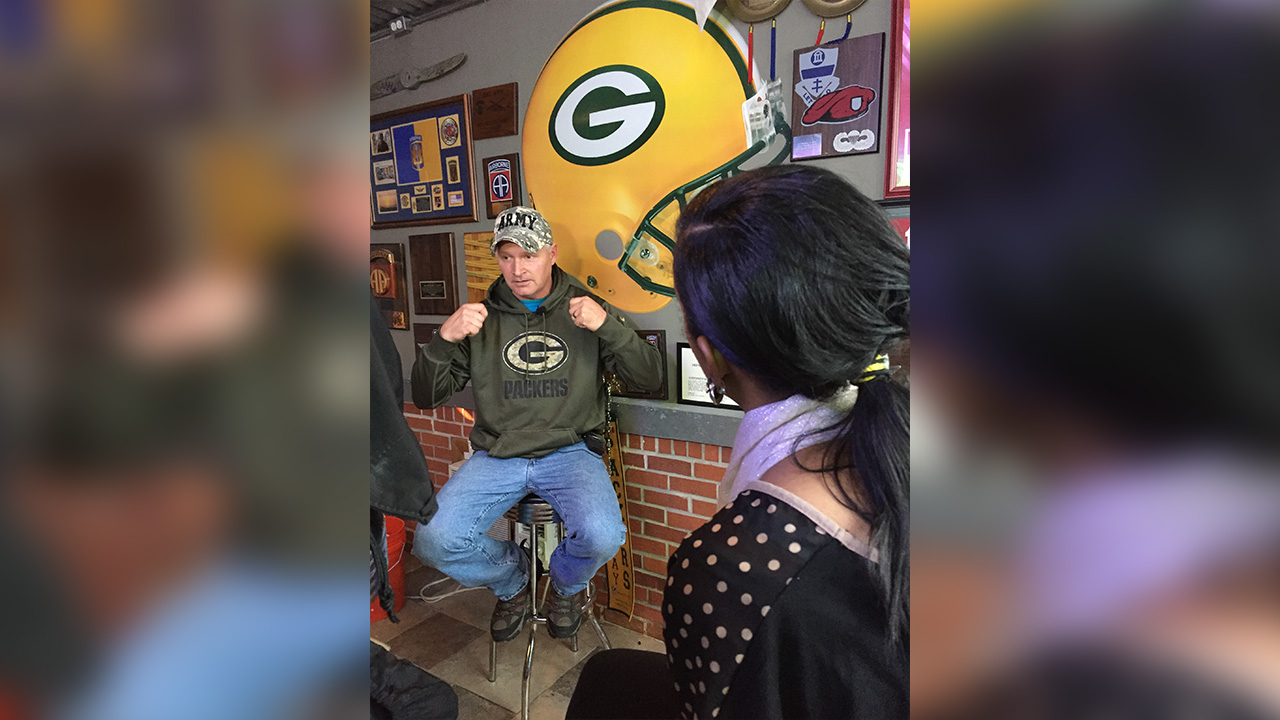 In less than a day, Dobs and his family said they'd been mocked on sports talk radio and a fake GoFundMe page to raise money for the banner.
His family has been threatened online by Panthers fans and his phone has blown up with interview requests.
He's had to delete a Facebook account that was set up for his Fayetteville City Council run that ended in a loss just last week.
Dobs said he was just waiting to hear back from the Panthers organization.
"I mean, I'm giving them 24 hours to contact me. I'm not contacting... I'm done with him," said Dobs. "It's up to him, and (by) him, I mean - the Panther organization."
In a Monday afternoon press conference, Panthers Coach Ron Rivera said the team is reaching out to Dobs and moving on.
"It's still a side story as far as I'm concerned," Rivera told reporters. "It's being taken care of. Cam's been talked to and we are reaching out to the other party, and that's where we are."
Several of Newton's teammates are coming to his support, saying they prompted him to take down the banner.
Report a Typo