CHICAGO (WLS) -- A storm is expected to hit the Chicago area Wednesday into Thursday, bringing strong winds, high waves and rain mixed with snow.
Over the next two days, 1 in. to 2.5 in. of rain may fall in the area. Widespread rain is expected to intensify Wednesday afternoon, just in time for the evening commute.
Temperatures in the 40s are expected to fall Wednesday night, turning the rain into slushy snow. Since the ground is relatively warm, the about half an inch of snow is expected to accumulate on the ground. Some areas could see up to 2 in. on the grass. Northwest Indiana residents should watch for lake-enhancement, which could cause 3-5 in. of snow to fall on isolated areas.
Local airports reported flight cancellations on Wednesday. By 3:10 p.m. 21 flights were canceled at O'Hare International Airport and delays were averaging 15 minutes. At Midway Airport, five flights were canceled and delays were averaging 21 minutes.
Doppler 7 MAX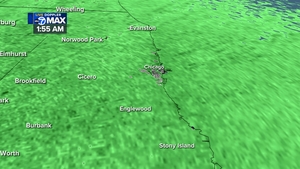 CLICK HERE to see the latest radar view from LIVE Doppler 7 MAX
The precipitation will taper off later Thursday morning. In addition to the rain and snow, the Chicago area will see winds gusting 40-60 mph, which could create 15-22 ft. waves.
High winds were to blame for the partial collapse of a brick wall at a home in Bridgeport. In Alsip, a tree fell on a car, smashing the windshield. The driver escaped injury.
"I heard a big crunch, and I'm checking the window and everything, the tree fell on the car," said Johnny Smith.
Chicago's Office of Emergency Management and Communications said they have over 200 salt trucks and plows ready, but officials said the focus remains on the lakefront, where barriers are ready to be put up and close down sections of the lakefront path as needed.
"We recommend that nobody tries to get around any of that stuff. You could put yourself in a dangerous situation. And then of course our public safety responders have to respond to those types of situations, puts everyone in harm's way," said Rich Guidice of OEMC.
ComEd said they have increased staffing and have equipment ready in case of widespread outages.
A High Wind Warning was issued until 7 p.m. Thursday in LaPorte County in Indiana and Berrien County in Michigan.
A High Wind Watch will be in effect from 12 a.m. to 4 p.m. Thursday for Racine and Kenosha counties in Wisconsin, Lake and Cook counties in Illinois, and Lake and Porter counties in Indiana, the National Weather Service said.
Strong winds out of the northeast could create some of the highest waves along the Lake Michigan shoreline since Oct. 31, 2014, when the water flooded parts of Lake Shore Drive.
A Lakeshore Flood Warning will be in effect from 4 a.m. Thursday to 1 a.m. Friday for Cook County in Illinois and Lake and Porter counties in Indiana, the weather service said.
Runners, bikers and drivers should exercise caution if they plan to venture out along the lake Thursday.
A Flood Warning will be in effect from Thursday morning to late Friday night for the following areas:
-Des Plaines River at Lincolnshire affecting Lake County
-Des Plaines River near Des Plaines affecting Cook County
-Fox River at Algonquin Tailwater affecting Kane and McHenry Counties
-Fox River at Montgomery affecting Kane and Kendall Counties
CLICK HERE for the latest 7-day outlook from the ABC7 Weather Team: