CHICAGO (WLS) --
The Chicago area will see mostly sunny skies on Thursday, but it is quite cold outside. High temperatures are expected to be in the low 20s with wind chills in the teens.
It's important to remember how dangerous the elements can be when it gets this cold. The Cook County Medical Examiner's Office said 11 people of died from complications of hypothermia or cold exposure this season. The most recent was 52-year-old Eugene Gawrysiak, of Westchester. He died Wednesday.
Larry Alexander, a commuter, said he wears several layers of clothes to stay warm.
"Four at the bottom. Five at the top," Alexander said.
Karen Polanco, another commuter, had a different strategy.
"Mostly just a pair of gloves, boots - and I walk really fast," Polanco said.
Many Chicagoans, like Anthony Tolbert, said they are thankful this type of cold has not been the norm this winter and that the season has been mild so far.
"Thirty-three years in Chicago. I know how to dress for this weather. I love it," Tolbert said.
DOWNLOAD THE APP:
ABC7 Chicago Weather App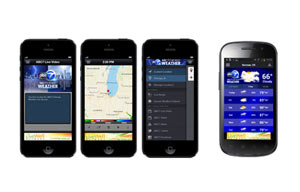 A Winter Weather Advisory will be in effect for northern Indiana and southwest Michigan until 9 a.m. Thursday, the National Weather Service said. The lake-effect snow is expected to wind down Thursday morning. Some areas got 6 inches of snow over the last two days.
Skies will be clear in Illinois on Thursday. Flurries and light snow showers are expected between 3 a.m. and 8 a.m. Friday. The snow will end later in the morning and there may be some lingering flurries in the afternoon.
Bitter cold is expected this weekend. Saturday may be the coldest day of the month so far, with high temperatures in the low teens and lows in the single digits.
CLICK HERE for the latest 7-day outlook from the First Alert Weather Team: