CHICAGO (WLS) -- Frigid temperatures are moving in as the Chicago area digs out from a two-day weekend snow storm that dumped 3-8 inches of snow in areas, with higher amounts in the northern and western suburbs and northwest Indiana.
The snow mostly cleared out by around 10 p.m. Sunday, but some colder air has moved in, with temperatures dropping into the low 20s. The freezing temperatures were a concern for commuters as the roads turned icy. Temperatures will continue to drop as the week goes on, with a high of 17 on Tuesday and 14 on Wednesday.
As the sun came up Monday, the sound of snowblowers and shovels filled the air. Snow plow drivers were back targeting trouble spots, adding another layer of salt to turn the snow and ice into slush.
The snow and ice blanketing sidewalks and stairs made the job of delivering mail a dangerous one.
Karen, a United States Post Office worker who has been in Chicago for 20 years, said she gets nervous when residents don't shovel their walkways.
"I fell down the stairs, had to have surgery, tore a rotator cuff and bicep," she said.
At 84 years old, Wanda Niewinskie said she is not too fragile to shovel out her entire driveway after the major snowfall.
"Just have to do it," she said with a laugh.
VOLUNTEERS SHOVEL SIDEWALKS, DRIVEWAYS FOR SENIORS
In the Englewood neighborhood, Jahmal Cole and other volunteers went around and shoveled out the sidewalks and driveways for seniors.
WOMAN RESCUED FROM FROZEN POND WHILE SAVING FAMILY DOG
Cathy Medernach laughed nervously as she told her story, knowing now she made a nearly fatal mistake when she went after the family dog who had fallen into a frozen pond while chasing birds.
"I didn't think at all, and I should have thought because my husband is a fireman, he tells me stories all the time. I know, I didn't think," she said.
Bailey, their dog, will recover. Cathy's son Kayden's call to 911 likely saved his mother's life.
"I completely thought about my husband and my kids and thought, oh my gosh, I'm going to die out there," Cathy said.
Poor decisions can lead to frostbite and even more devastating injuries this time of year.
CHICAGOANS ENJOY A SNOW DAY
Many Chicagoans, big and small, built snowmen outside their homes over the weekend.
Chicago area families weren't the only ones who enjoyed the latest snowfall. Several animals at Brookfield Zoo were seen playing in the snow, including a robin who was just visiting!
DOWNLOAD THE APP:
ABC7 Chicago Weather App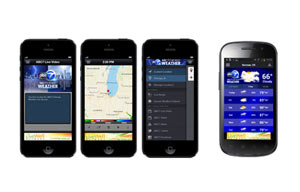 A few miles south in Chicago's Old Town neighborhood, parked cars were covered in ice and snow. One driver used a broom to get her windshield clear and another went so far as to take a shovel to the glass.
A Winter Storm Warning expired at midnight after being in effect much of the weekend for most of the Chicago area. The two-day storm dumped 7.8 inches of snow at O'Hare and 7 at Midway. In the suburbs, Elgin received 7.9 inches, St. Charles and Lake Villa received 7.8 inches and Downers Grove got 7.5 inches.
The storm prompted more than 1,200 flight cancellations at O'Hare and Midway over the weekend. Among those stranded were boy band
OneRepublic, which tweeted Sunday that they could not make it to their concert in Las Vegas due to the snow storm
. On Monday, 67 flights were cancelled at O'Hare and one at Midway, with delays of about 15 minutes.
CLICK HERE for the latest 7-day outlook from the First Alert Weather Team:
Editor's Note: A reference to an unplowed street belonging to the Village of Norridge has been removed from this story. The street was not located in Norridge.