RICHMOND HILL, Queens -- A newborn boy was left in a Queens church's nativity scene.
It happened around noon on Monday at the Holy Child Jesus Church in Richmond Hill.
A baby wrapped in cloths lying in a manger. It's a story that's echoed throughout churches for centuries.
While that story has different meanings for different people especially this time of year, it must have meant something special to a desperate mother who left her newborn son inside a nativity scene at Holy Child Jesus Church.
"Heard in the distance a baby crying," the custodian said.
It was a sound sweeter than any organ or choir could dare mimic that first drew the attention of a custodian at Holy Child Jesus Church to a nativity scene near the alter. What he found inside was truly remarkable.
"The baby was still, umbilical cord connected, so it was truly a newborn baby," the custodian said.
Father Christopher Heanue and others were quickly called to help the abandoned infant left in the manger, which actually wasn't supposed to be set up for another couple weeks.
"God has a way of working mysteriously because I believe when this woman who came in with this child, saw this crche, this empty home, this home in which we'll welcome Jesus in just a few short weeks, I believe she found in it a home for her child," Father Heanue said.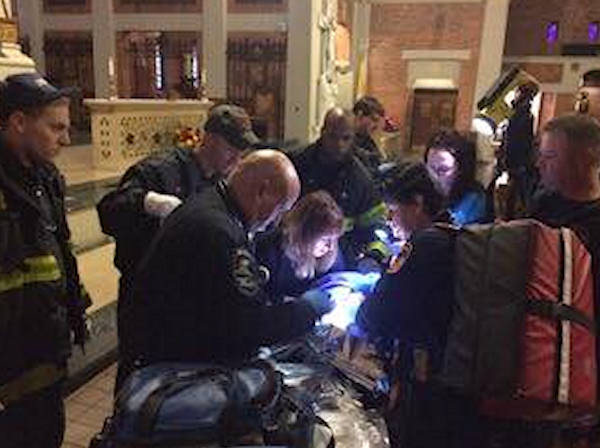 A healthy five pounds and 17 inches long, the precious little boy was taken to Jamaica Hospital where he's now doing just fine.
In the meantime, authorities are now concerned about the wellbeing of the boy's mother who was captured briefly on church surveillance cameras.
"I feel for the mother, for her sorrow, and for the feelings that she must be going through," Father Heanue said.
"To hear something like this totally shocked me and I've never heard anybody leaving a newborn, and I've been here for 25 years, never," said Evelyn Plaza, a parishioner.
Plaza says this church is like a family and already several members have stepped forward and offered to adopt the child.
"I was crying just watching the news," Plaza said. "To me, I call him baby Jesus already, so he's like a child is born, that's the way I look at it, in the manger of Holy Child Jesus Church."
"I look at it as quite a beautiful thing. I mean our church is meant to be a home for those in need and Pope Francis this year has called this a year of mercy," a parishioner said.
By law, a church is considered a safe haven for drop-offs, but you are supposed to hand the baby off to a responsible person and not leave the child unattended.
"Let us pray for this child," Heanue wrote, "for his parents and for whomever will receive him into their home."
(Some details from the Associated Press)