NEW YORK --
New season, new engagement, same old "Bachelor" mansion. "The Bachelorette" Rachel Lindsay is the first African-American to ever take on the role, but don't think that will change much about the show, if anything! If this first night is any indication, there will be plenty of drama to go around. Rachel promises to be herself and that's a good thing. This 31-year-old beautiful woman is smart and sassy. She's a high-powered attorney and it's awesome to see the side eye she gives people when she objects in court! I'm sure there will be a few guys on the receiving end of that glance this season!
Rachel got to meet four of the men during the "After the Final Rose" special from the last season of "The Bachelor." Her heart may have been broken by Nick, but she and her dog "Copper" are more ready than ever to find love. She's putting her career on hold for a few months so that she can focus on love and find the man of her dreams.
SEE A SLIDESHOW OF THE MEN HERE
Before the limos arrived, we got a sneak peek into the lives and backgrounds of some of the men that would be vying for Rachel's heart. First up was Kenny who is a professional wrestler! Like WWE style! He has a 10-year-old daughter and they have such a close and special relationship. We'll see if that's a deal-breaker for Rachel!
Next was 31-year-old Jack who is also a lawyer. His mom died of cancer when he was in high school and he's still dealing with her loss. He wants a big family someday. He watched Nick's season of "The Bachelor" and was a fan of Rachel's.
28-year-old Alex loves to work out but calls himself a huge nerd because he loves to code and play with his Rubix cube. He seems really, really smart.
Mo is next from San Francisco. He launched a startup and says that he's busy, but he always tries to make time for his family. They are super into Bollywood dancing! It's pretty cool!
Lucas is an obvious weirdo. You'll know him as the "Whaboom" guy. When "Boom" just isn't enough, you say, "Whaboom!" He's like a poor man's Jim Carrey.
Blake is a personal trainer and nutritionist who seems to workout obsessively. He talks about sex A LOT. He said that his manhood is above normal and he's been told how amazing it is by everyone. Yeah, OK. Hide Rachel! Run!
Diggy is from Chicago and he has a passion for fashion and looking in the mirror at himself. Sigh. Diggy has 500 pairs of sneakers...but no lady. However, he says he is ready to settle down.
Josiah is up next and he's a prosecutor, so he's got law in common with Rachel right off the bat. He has a really, really sad story. His older brother was overweight and bullied because of it. He decided to hang himself in the backyard and Josiah had to cut him down from the tree. He was just 7 years old! He started to get in trouble and committed crimes! He was arrested for burglary at the age of 12. The judge told him that he was too smart to behave that way, and he told the judge that he wanted to be like him. And now he is. He said all he needs in his life is "the one."
At last it was the day of the introductions! The ladies from her season of "The Bachelor" showed up at the mansion to give Rachel some advice. Even Corrine was there! I guess Rachel didn't hate her! Rachel told the ladies she was nervous. They tried to channel her nervousness into excitement. Alexis the "shark" girl said that she shouldn't judge anyone who comes in a costume! Ha! Raven told Rachel that she liked DeMario's confidence and the other ladies agreed. However, Whitney said that Sarah from their season's friend knows DeMario from college and his intentions might not be so pure. Rachel said she just hopes the guys are open to the future. Raven told Rachel that she pulls the best out of all of them and she thinks she'll do the same with the guys.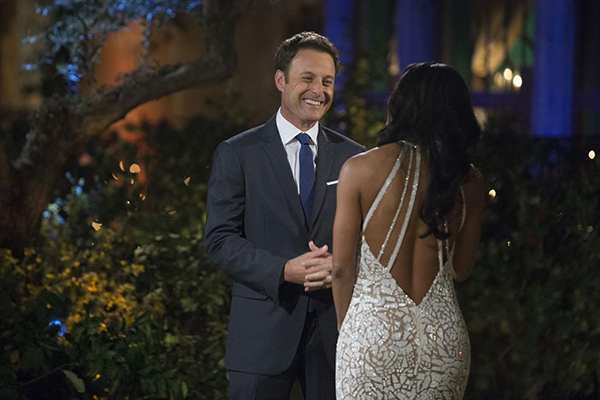 Rachel showed up that evening in a glistening white gown that just highlighted her beauty. She said she was nervous, but Chris Harrison steadied her confidence.
Peter was out first and he complimented her looks and then asked if she could feel him shaking. He was so nervous too! He's from Wisconsin and he said that he hoped he could be a good Wisconsin guy for her because he knows she hasn't had the greatest luck with that lately. (Nick's from there!) He has a center tooth gap too! Just like Rachel! They match! She thought he was cute and said that they were off to a good start.
Josiah was next, he told her she looked stunning and said that he's a prosecutor from Florida and that by the end she'll have "no reasonable doubt" that he's the man for her! She liked that!
Bryan got out of the limo and spoke Spanish to her, half of which she understood. Then he asked her if she's dated a Colombian guy before and she said "no." He said, "Girl, you in trouble, you in trouble!" She said, "I like trouble!"
Kenny entered and said, "Hi, pretty Rachel." He said before he left he had to check something and then they did the "arm wave." It's like doing the worm but with your arms if you can't picture it.
Rob came out looking like Clark Kent and called her a "first-round draft pick." Sigh - guys are weird.
Iggy told Rachel he was "authentically" excited to meet her and be there.
Bryce is a firefighter and he swept her off her feet! He's not too bad to look at either!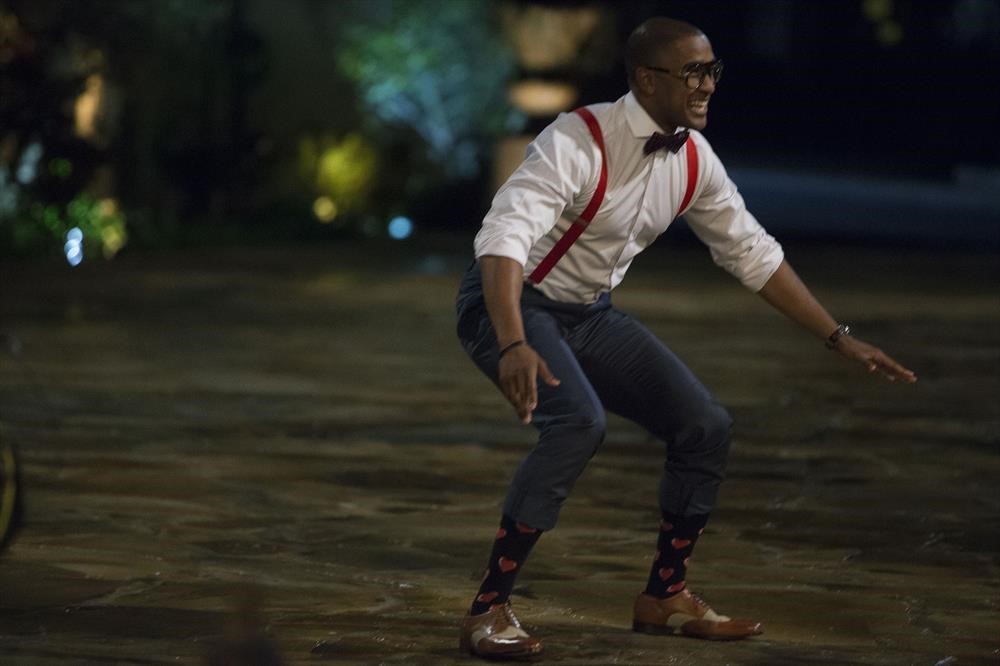 Willie had an awesome entrance. He came out as "Steve Urkel" and then went back and came out as "Stephan Urkel." Classic.
Diggy told Rachel he was there to teach her how to "diggy." He said that while flashing a cheesy grin and grabbing his bowtie. I think we found our Steve Urkel in this guy!
Kyle told Rachel that he wanted to show her his buns, his Jamaican buns. Ha!
Blake K. just told her it was nice to meet her and told her about his grandparents who only dated a few months but have been married for more than 60 years.
Brady came out with an ice pick and then chopped into a huge block of ice. He said, "Don't worry, I just had to break the ice!" Rachel thought it was funny.
Dean was nervous to see her after he said, "Once I go black I'm never going back," during the "After the Final Rose" special. Rachel asked him what clever line he had this evening. She told him it was fine that he had said that, it was cute, but that she actually really loved his confidence.
Eric danced with her again and she said it was their "thing."
Rachel told DeMario that he "looked familiar" and he said, "You look familiar! Hey, hey!" He said he was looking forward to more firsts like "first date, first kiss, first Christmas."
If you thought things were getting a little dull, cue the marching band! In came Blake E. drumming with his marching band! He told her it was good to see her again because he also saw her during "After the Final Rose." He said that his first entrance was a little forgettable so he wanted to "drum up something new" for her.
Fred showed her a picture of when he was in third grade in a yearbook and then flipped to eighth grade and Rachel was in there! She was his camp counselor too! He said that he hasn't seen or spoken to her in 15 years, but everything happens for a reason. Well, Rachel said she knew exactly who he was and he was a "very bad kid!"
Jonathan came out next and asked her to hold her hands out and close her eyes. Then, he tickled her! With that, the "tickle monster" was born.
Lee came out and sang a country song about how she needs to get rid of the guys and he gave her a flower. It wasn't good.
Alex came out of the limo pushing a vacuum. I don't think Rachel realizes how rare that is. She should snatch this guy up!
Milton took a selfie with Rachel using an instant camera. It was smart, because now she has a souvenir.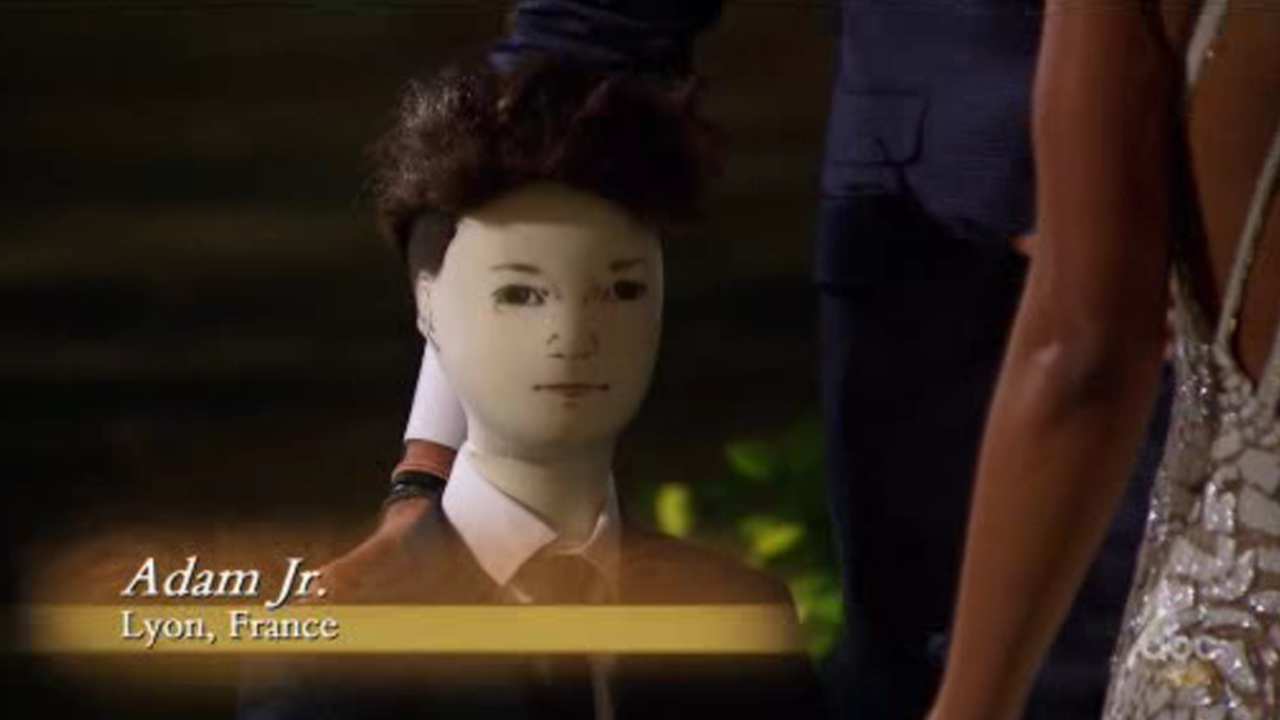 Adam used a creepy dummy to introduce himself. Rachel said that she doesn't like Adam Junior.
At last! A man in costume! It is Matt dressed as a penguin. He said that once penguins find their soulmates they mate for life, so he hopes that can be like them. When he walks, his feet squeak!
An ambulance pulled up and Grant hopped out. He said that he heard there was an emergency because a woman was getting bored to death. Rachel yelled, "Save me, save me!"
Anthony talked about how he wanted them both to work to understand each other. Yawn.
Jamey told her that her dress was "ridiculous," but in a good way.
Jack said it was nice to meet her and he couldn't wait to talk to her inside.
Mo said it was the only time that he would have the upper hand in the relationship and he held her hands with his on top.
Jedidiah spouted off something about biblical stuff.
Michael said, "The blacker the brownie the sweeter the dude."
And, the one you've been waiting for...Whaboom! Lucas introduced himself by talking about how he had one testicle larger than the other through a bullhorn. Rachel told him to come over. He said that he was Lucas, "And you are?" He told her that it is all about their connection and "Whaboom!" He told her she was "glorious" and walked inside.
The guys said, "Oh, there's the crazy!" They got introduced to "Whaboom!" and they said, "Let the circus begin!"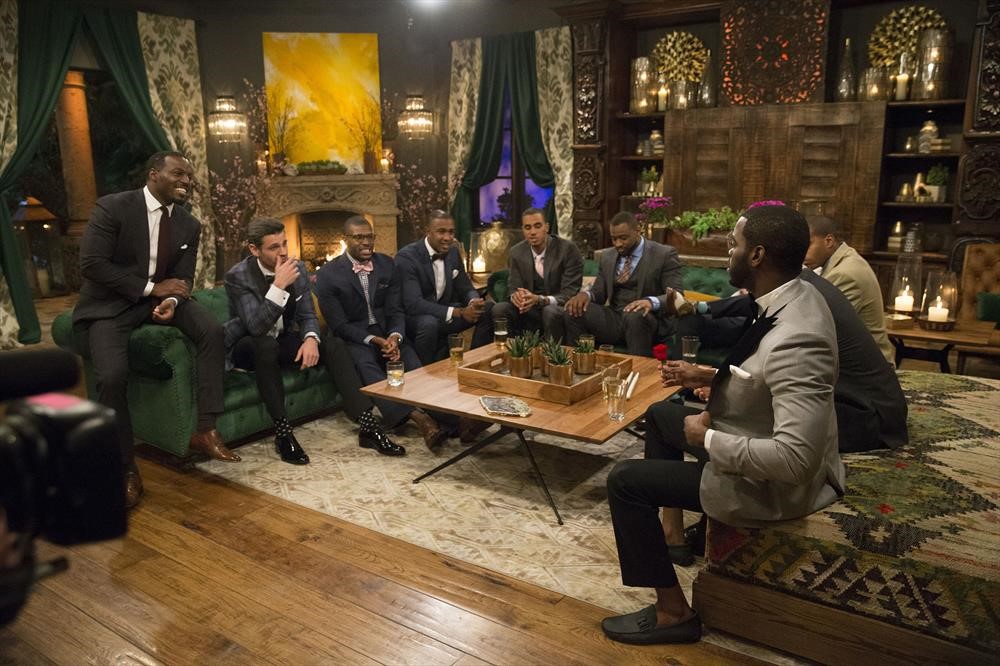 Then it was time for the cocktail party! She told the guys that she was swept off her feet and that she is thankful that they are there. So she's hoping they will keep it real with her, "keep it 100." They said cheers to "no regrets."
Josiah grabbed Rachel first. He told her all about how he got a second chance at life at age 12 and that's how he became a prosecutor. Dean brought her over to a sand table to build a sand castle, and neither of them knew how to do it. How is that possible? Let's hope it is good packing sand. Rob gave her a trading card. He was serious about her being his "first-round draft pick" in his "Bachelor Fantasy League!"
The creepy mannequin doll finally got its moment and it spoke French. Rachel told Adam that Adam Junior made her nervous. He promised that he wouldn't always be around.
Rachel said that she just can't even believe that Frederick is there! She told him that he was a terrible child, but now he's a man and she wants to get to know him. She thinks he's hot, but she can't seem to get past that she had to yell at him for being a "bad little boy" all the time!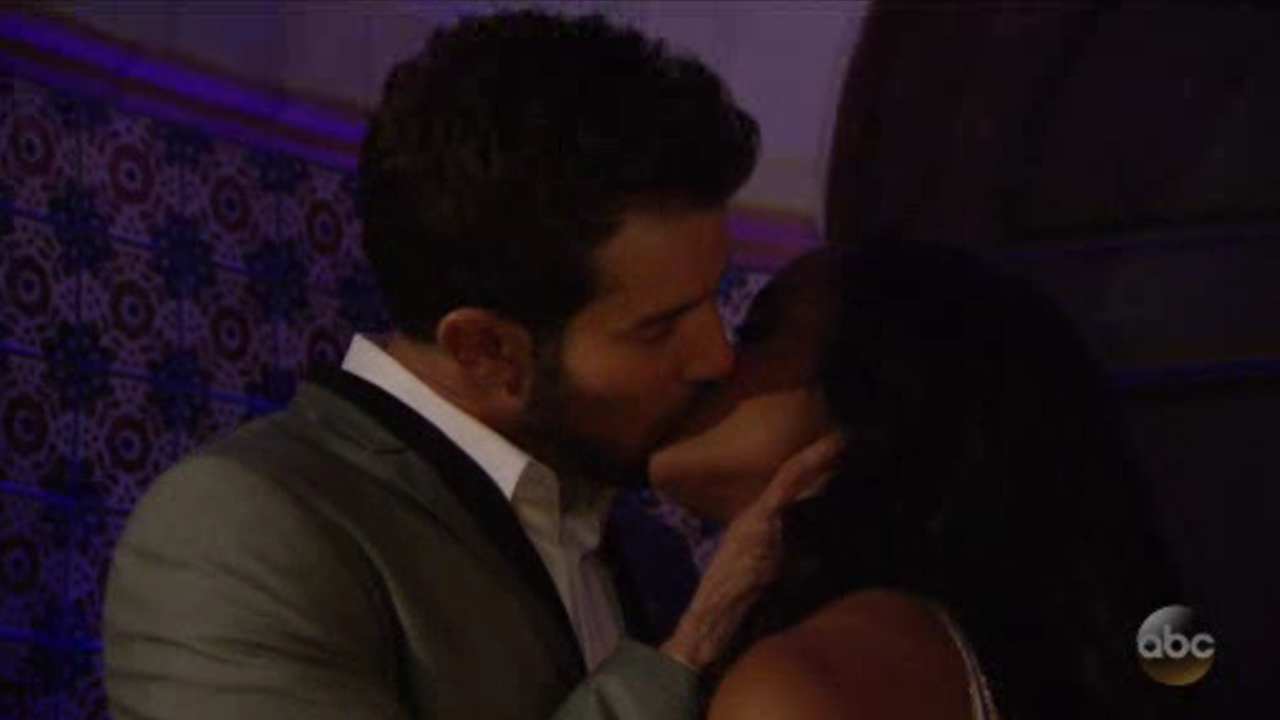 The elderly man of the bunch, 37-year-old Bryan the chiropractor, said that he's there for something serious and then they had a little Spanish lesson. They seemed to make a real connection and Rachel likes him a lot! Hold up - Bryan goes in for a KISS. He goes for it! Rachel said she wasn't planning on it, but "boy did I love it!"
Cue the first impression rose! Chris Harrison brought it in and you could have heard a pin drop! Josiah said he's going to get it, but he didn't just see that kiss that just happened!
DeMario finally got to sit down with Rachel and asked her N'SYNC or Backstreet Boys and she said N'SYNC (gasp). Don't worry, she said she also loves BSB. She loves DeMario's confidence, and the fact that he is smokin' hot.
It started getting crazy, the guys were all trying to grab time with her! But, Mo got too drunk to get in the game. DeMario was trying to help him out, but it just wasn't happening. He even started drinking DeMario's drink. Aw, poor Mo.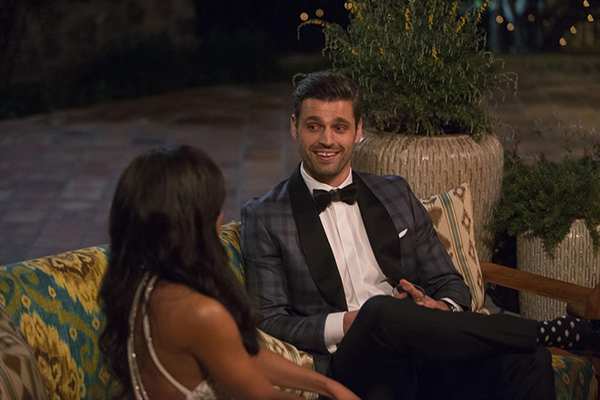 Peter was finally getting a chance to talk to Rachel and he gave her chocolate, which apparently she doesn't like! Seriously, this woman is shocking! He told her he would throw it in the fire. Whaboom wouldn't leave them alone! He kept on yelling through his bullhorn. He cut in and gave her a Whaboom shirt.
Blake confronted Whaboom and he wanted to know if he was there for the right reasons. The "right reasons" police were out in full force and early on tonight. He won't win if he doesn't focus on Rachel, we've found that to be true every season!
"Pretty Boy Pit Bull Kenny K" sat down with Rachel at long last and she said his name is too long! He said it encompasses who he is in the wrestling ring. He told her that he has a daughter and his life revolves around her. It was a really sweet and sensitive talk.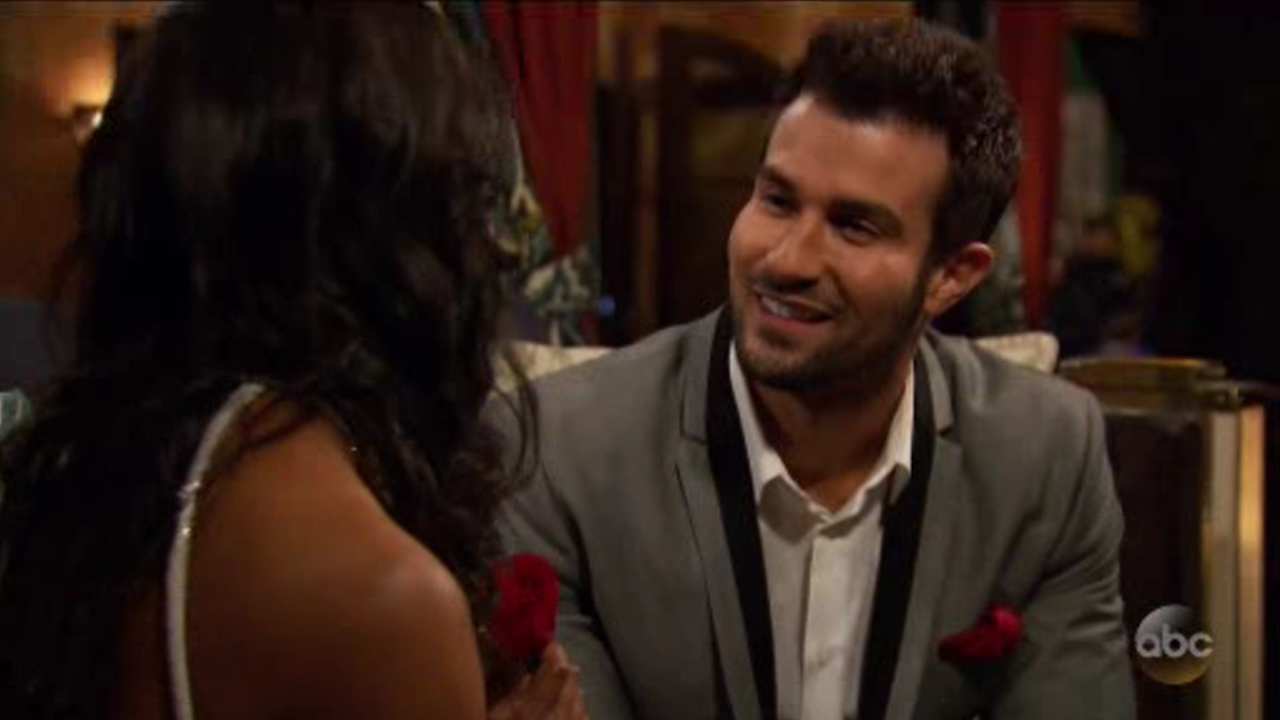 Rachel walked back into the room, grabbed the first impression rose and gave it to Bryan! I guess going for that kiss paid off! He happily accepted and gave Rachel another kiss. Mo screamed out "NO!" as he looked on. Bryan said that he didn't want their kisses to end!
Ding, ding, it's Chris Harrison. Time for the rose ceremony! Rachel gave out roses to:
1) Bryan (First Impression Rose)
2) Peter (Wisconsin)
3) Will (Urkel)
4) Jack
5) Jamey
6) Iggy
7) Eric (ATFR)
8) DeMario (Mr. Personality)
9) Jonathan (Tickle Monster)
10) Bryce (Firefighter)
11) Alex (Hot Vacuumer)
12) Kenny (Wrestler Dad)
13) Dean (ATFR)
14) Matt (Penguin)
15) Anthony (So Serious)
16) Brady (who?)
17) Josiah (Prosecutor)
18) Lee (Guitar Guy)
19) Diggy
20) Fred (Camp!)
21) Adam (Just Adam, no Adam Jr.!)
22) Blake E. (Sex Maniac)
23) Lucas (Wahboom!)
The guys were outraged that Rachel would pick Wahboom! I mean, they have to realize he's great entertainment, right? For perspective, there are still 23 men left! That's insane! The seasons usually start off with 25, so we are only two shy of most first nights for previous seasons going into week two.
This season looks like it is jam packed with drama. Some of the more quiet guys like Eric also seem to get involved, so that's interesting! Plus, someone has a girlfriend! In a future episode she confronts her boyfriend with texts right in front of Rachel on what appears to be a date. Yikes! Next week, "The Bachelorette" moves to its regular time at 8/7c on ABC!