YOSEMITE NATIONAL PARK, Calif. --
Officials said the Meadow Fire in Yosemite National Park has grown to 2,600 acres near Half Dome. Containment is unknown at this time.
Fueled by dry vegetation, the fire was burning east of Half Dome in an area known at Little Yosemite Valley. Firefighting efforts were hampered by rugged terrain.
Helicopters refueled on Monday morning to resume the air attack. There are a total of 11 aircraft, 7 of which are helicopters, and 100 fire personnel on scene.
Nearly 100 hikers have been picked up by search-and-rescue helicopters. Park officials believe all hikers have been evacuated from the area, but they plan to go back up on Monday to be sure.
The brush fire erupted at about 12:30 p.m. Sunday. There are no reports of injuries or structures affected by the flames. Most of the national park remains open, including all roads.
"I mean it was brilliant," said Mark Fidler, a hiker. "I mean hopefully nobody's been hurt by the fires or anything, but honestly you can't get that kind of experience getting helicoptered off the top of a mountain."
Rescue crews have been flying around the clock to get people away from a fire that's burning out of control. It's forced the closure of Half Dome -- a major tourist attraction -- and created a plume of smoke that could be seen for miles.
"There's no helicopter rides in Yosemite Valley so you either have to be injured or need a rescue so that was really interesting," said Delaware North Companies spokesperson Lisa Cesaro, who was hiking on Sunday. "It was amazing. You could see Half Dome, you could see the flames and the smoke from the fire. I will definitely remember it."
The cause of the fast-moving fire is still unknown, but it's right next to a fire that's been smoldering since July -- quite possibly the cause.
Trails near the Half Dome area, the Little Yosemite Valley area, Merced Lake and Sunrise High Sierra Camps, Clouds Rest and Echo Valley have been shut down.
People who have permits to hike Half Dome in the next few days can call (209) 372-0826 for an update. Visitors can also call the fire information line before heading into the park. That number is (209) 372-0327.
Map showing fire area: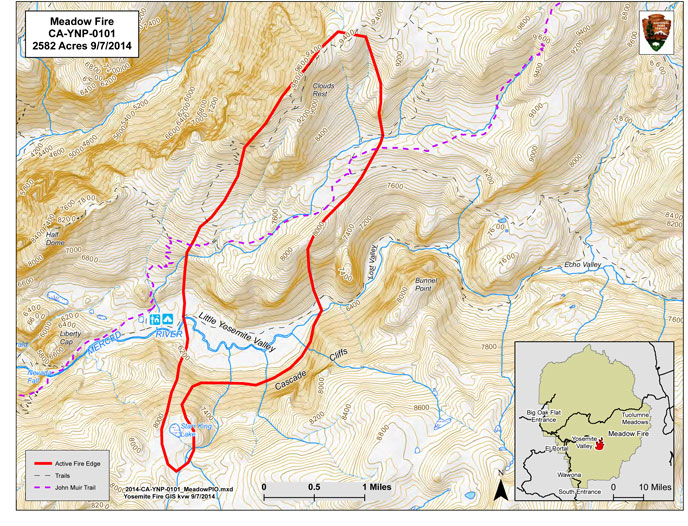 Map showing wilderness trail closures: