CHICAGO (WLS) -- Waters and concerns continue to rise after days of rain.
Neighbors near Irving Park Cemetery watched the skies and the stream now flowing over grave markers just feet from their property lines.
"The whole neighborhood Is sick with worry because as soon as we see this, everybody out here is thinking at what point is this going to break?" said Kathy, a neighbor.
The flood in the cemetery began Thursday. Neighbors said it happens all the time, sometimes flowing into their yards and basements.
"People are very nervous right now, and this goes on every time it rains. The community comes out and says, 'How much damage are we going to get right now?'" she said.
Reports of flooding were prevalent throughout the city and suburbs. Naperville officials closed the Riverwalk due to the swelling DuPage River. The football field at St. Francis High School in Wheaton looks more like a swamp.
A motorist had to be rescued from the flooded roadways Monday. ABC 7 Meteorologist Phil Schwarz was on the scene in Bolingbrook when he witnessed a motorist trapped along a flooded section of Royce Road and decided to call 911.
"Some motorists tried to drive through the flooded roadway and she is stranded out in the river. She is right by her car," he told emergency dispatchers.
The fire department pulled up five minutes later, and around the same time, the motorist's son arrived. After putting on a dry suit, the rescuer was attached to a rope and walked out to the motorist. He then put a life jacket on her and safely walked her back to dry land.
"Thankfully it wasn't in a river with a fast moving current because that becomes a different type of scenario," said Chief Dan Graff, Bolingbrook Fire Department.
The heavy rain over the weekend in the Chicago area has left many people keeping a wary eye on river levels.
The DuPage River is overflowing, with portions of Royce Road shut down between Route 53 and Green Drive. Vicky Prouty lives next door and is watching the water levels creep closer to her house.
"It's lovely, it's lovely when people come canoeing down the river in my backyard it doesn't bother me," she said.
Doppler 7 MAX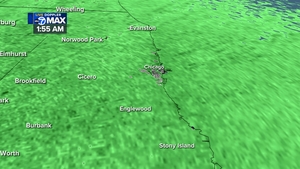 CLICK HERE to see the latest radar view from LIVE Doppler 7 MAX
According to the National Weather Service, the east branch of the DuPage River has topped out at 21.5 feet, about a half a foot over moderate flood stage.
"I looked out this morning I'm a little further down the road from here and the water hasn't even come up to my property line and so which is good," said Bolingbrook resident Joseph Pietruszynski.
Meanwhile other waterways are swollen, like the Des Plaines River.
"Well I see it moving pretty fast and I see it getting pretty high," said Riverside resident JoAnne Kummer.
In west suburban Riverside, resident and city officials are keeping a close eye on it.
"It's extremely high. I mean it looks like it might get up to the bottom of the bridge which would be extremely high if it hits the bottom of the bridge," said Riverside resident Tom Kummer.
Weekend storms dropped heavy amounts of rain in the Chicagoland area, four inches in some places. Residents who live in flood prone neighborhoods crossing their fingers that the water levels start to recede.
"It's hurtful when your basement floods obviously and you can't get into your house and you gotta get out and all of those types of things," Tom Kummer said.
There was some major flash flooding in Hoffman Estates, where cars had to be towed out of the water on Higgins and Roselle roads.
Standing water has led to a number streets being closed. In Orland Park, Illinois Route 7 is closed between 131st and 136th streets, 135th is closed between Harlem and Ridgeland Avenues and 143rd Street is closed from Creek Crossing to Wolf Road. In Palos Hills, 107th Street is closed from US 45 to Kean; Illinois Route 53 is xlosed between Butterfield Road and Park Boulevard near Glen Ellyn and Illinois Route 137 is closed from Casey Road to Illinois Route 83 in Lake County.
There have been no reports of flooding in Chicago, the Office of Emergency Management said.
O'Hare Airport received 1.95 inches of rain on Saturday and another 1.32 inches on Sunday. The month of April saw a total of 6.43 inches of rain, 3.38 inches above average.
The rain will continue on Monday, but is not expected to be as heavy as over the weekend.
CLICK HERE for the latest 7-day outlook from the ABC7 Weather Team: