CHICAGO (WLS) -- Rain fell in heavy bursts early Tuesday morning, before turning steady - even light in some areas - as commuters hit the road. But wet roads create slowdowns, so it was still a good idea to leave early.
Doppler 7 MAX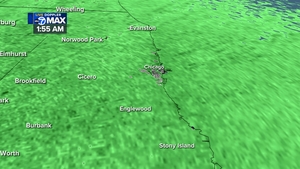 CLICK HERE to see the latest radar view from LIVE Doppler 7 MAX
Storms moving south and east brought heavy rain from the Chicago suburbs to northwest Indiana around 6 a.m., over area construction zones. Drivers should take it slow to avoid accidents.
At that time, light rain fell over the northern suburbs and area expressways, just enough to be a nuisance. Those who take public transportation or walk to work should wear a jacket with a hood or bring an umbrella for the morning.
The rain is expected to dissipate across the Chicago area by 8:30 or 9 a.m. The clouds will linger, but may thin out enough to let the sun peek through.
Average high temperatures will be in the low-to-mid 50s Tuesday, with a wide variance between the far suburbs and the city. Temperatures could reach the 60s inland and will stay in the 40s near Lake Michigan.
CLICK HERE for the latest 7-day outlook from the ABC7 Weather Team: