CHICAGO (WLS) -- Service on the South Shore Line was suspended for much of the day Thursday after the icy weather made for a nasty morning commute.
Passengers on a South Shore train were stuck for more than five hours after ice on an overhead wire and on the tracks prevented the train from making it up and over a hill west of the Hegewisch station.
Annette Smith boarded the train at 5:44 a.m. in East Chicago. The train went through two stops, Hammond and Hegewisch, before it got stuck on a hill.
"We could not make it across the hill because the lines were frozen. So we went back and forth, maybe two or three times, trying to build up the momentum to get up the hill," Smith said.
She said the cars were very warm and riders were uncomfortable. A diesel engine was dispatched to push the train back to Hegewisch.
Around 10 a.m., the Northern Indiana Commuter Transportation District issued an alert that said the South Shore Line would be suspended until further notice and that all trains would head back east to drop passengers off at their originating stations.
Officials said Metra honored South Shore tickets Thursday.
Adriana Rodriguez, who boarded a train around 7:50 a.m. behind the one that got stuck, said while many passengers were irritated, they also accepted that there was nothing they could do until they were allowed off the train.
"It was frustrating, because we were there for a really long time. But the conductors were really nice. People were frustrated, but some of them were really understanding, being like, 'It is what it is. We're going to get where we need to go when we are able to,'" Rodriguez said.
She said her train lost power as it tried to head back to Hegewisch. Passengers couldn't disembark until the train made it back to an area where they could use stairs to step down.
Rodriguez and other passengers said they struggled to find alternate transportation from Hegewisch so they could either go to work or back to Indiana.
Late Thursday evening, the South Shore Line said limited eastbound service would resume, and normal train service is expected to resume on Friday, January 13.
South Shore Line
President and General Manager Michael Noland apologized to commuters in a statement issued Thursday. He apologized for not returning riders to their stations of origin in a reasonable amount of time and said they fell short on their responsibility to communicated updates to affected riders in a timely fashion.
Noland said South Shore will conduct an investigation into how the company can improve service and will be better prepared to deal with extreme weather events in the future. He thanked South Shore customers for being loyal riders.
DANGEROUS DRIVING CONDITIONS
Icy roads caused several drivers to skid off the highway Thursday morning. The wintry mess was especially bad in the south suburbs and in northwest Indiana.
Plows dumped salt on the roads all morning. But it was no match for freezing rain, sleet and below-freezing temperatures. The roads were caked in ice.
The westbound lanes of the Indiana Toll Road were closed in Gary for more than two hours.
The westbound lanes of I-80/94 were closed shortly after 5 a.m. near Cline Avenue due to the slick roadway, according to Indiana State Police Sgt. Tim Moon.
As many as 15 crashes were reported, with many cars sliding off the road, Moon said. One person was taken to the hospital complaining of neck pain. That person's injuries were not though to be life-threatening.
Salt trucks were dispatched to the area and the tollway was reopened by 7:30 a.m., Moon said.
DOWNLOAD THE APP:
ABC7 Chicago Weather App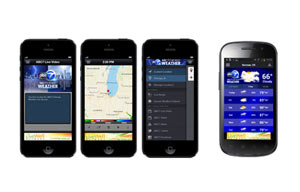 A sedan slid off the road and into bushes and trees near Sauk Trail and Ridgeland in south suburban Richton Park.
A box truck toppled over into a ditch on the Bishop Ford near 130th. Two people were sent to the hospital. Several other crashes were also reported on the interstate.
Jason Kellner, of Milwaukee, took a break from driving at the Great Lakes Cafe in Gary.
"Very dangerous and slippery. I had to take it nice and easy," Kellner said.
Krystian Wilkins, of Gary, did the same.
"The side roads are always pretty bad. They take care of the main streets out here. It's best to take the main streets," Wilkins said.
A police snowmobile
fell though the ice
on Baker Lake in northwest suburban Barrington. The officer who was riding it was not hurt and made it safely back to shore.
FLIGHT DELAYS
More than 50 flights have been canceled and many others are experiencing delays Thursday morning at Chicago's airports because of inclement weather.
At O'Hare, 26 flights have been canceled as of 9:30 a.m. and delays are averaging 31 minutes, according to the city's Department of Aviation.
At Midway, 42 flights have been canceled and delays are averaging less than 15 minutes.
The cancellations are due to snow and ice, which were expected to dissipate before colder temperatures arrive Thursday night, according to the National Weather Service.
CTA AND METRA DELAYS
Metra's train tracking system for the Metra Union Pacific North line went down Thursday. Officials said information about delays will be sent via alerts and they are working to resolve the problem.
The Metra Electric and Rock Island lines experienced 10-15 minute delays due to rails icing over and mechanical issues. Most other lines were running on schedule, officials said.
Trains on the CTA's Red and Green lines were temporarily delayed Thursday morning due to track conditions.
Red Line trains were halted about 5:35 a.m. between 95th and 35th streets, according to the CTA. Trains were on the move again shortly after 6 a.m., but operating with residual delays.
Green Line trains were experiencing delays while entering and exiting the 63rd/Ashland and 63rd/Cottage Grove stations, but normal service was resuming by about 6:30 a.m.
Delays on both lines were due to track conditions, the CTA said.
SALT AHEAD OF TIME
The Department of Streets and Sanitation deployed 210 trucks to salt the city's main streets and Lake Shore Drive early Thursday as forecasters warned of freezing rain across the Chicago area. Authorities hoped to prevent icy conditions for the morning rush.
The city's salt spreaders first focused on salting arterial routes, then moved to neighborhood streets.
Thursday is expected to be mostly cloudy, with a 60 percent chance of rain and a high of 31 degrees, according to the weather service. There is a chance of snow between 9 a.m. and noon, but less than half an inch of snowfall was expected.
CLICK HERE for the latest 7-day outlook from the First Alert Weather Team:
The Sun-Times Media Wire contributed to this report.