CHICAGO (WLS) --
A second round of storms missed most of the Chicago area Wednesday, veering north into Wisconsin instead.
ABC7 Meteorologist Larry Mowry said there are still storms to the west but they're likely to stay south of the Chicago metro area. Some rain could develop overnight, lingering into isolated showers Thursday morning.
An early afternoon storm rolled through the city and suburbs in the early afternoon dumped as much as half an inch of rain within 15 to 20 minutes in some places.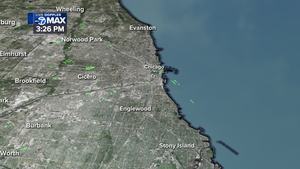 CLICK HERE to see the latest radar view from LIVE Doppler 7 MAX
The summer storm brought driving rains to north suburban Wilmette and downed trees and power lines in far northwest suburban Fox Lake.
"So I ran into the house, it was like a hurricane coming through," said one Fox Lake resident. "Things were blowing around, garbage cans were blowing in the road."
"We got kinda rained on going from place to place when we were out and about downtown. It caused ti to cool down a little bit, so we were grateful for the rain," said Lisa Christon, who is visiting Chicago from Kansas.
HEAT AND HUMIDITY MAKE ALLERGIES WORSE
Since the end of the Labor Day weekend, the Chicago area has been gripped by heat and humidity with temperatures hovering close to 90 and the heat index hitting triple digits.
Those factors are making fall seasonal allergies worse.
"I have, like, my face kinda itches, my skin itches, and then I have asthma so my chest is heavy and it's harder to breathe," said December Gladden, allergy sufferer.
Experts are warning to brace for a bad allergy season. The wet summer, unusually warm temperatures and high levels of ragweed pollen and mold are making for a very uncomfortable season.
Dr. John Latall of Premier Allergy, Asthma and Sinus Care said his practice has been busier than ever with people looking for relief.
"We've been busy, yeah, especially since mid-August when the ragweed season began iin concernt with mold being high, with the heat and humidity," Latall said.
Though cooling temperatures should bring some relief, some doctors said that fall allergies may last until this autumn's first frost.