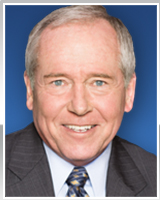 Frank Mathie was a feature reporter for ABC 7 News, the #1 station for news in Chicago. He was an integral part of the ABC 7 news team from 1967 to 2017. During his acclaimed career, he covered everything from hard news to human-interest stories. With his focus on feature reporting, Mathie delved into the issues, events, and personalities of Chicago, bringing the city to life with his sense of humor and intellectual curiosity.

When Mathie first came to ABC 7, he worked as both a news writer and reporter. Before committing to full-time feature coverage, he served as a writer and reporter for ABC 7's "ACTION 7" beat, which was designed to help Chicagoans with consumer and government issues (1971-74). He began his broadcasting career as a news writer, film editor, and reporter at WISN-TV in Milwaukee, Wis. (1964-67).

Mathie, whose talents include writing, editing, and the creative production of feature stories, has been recognized for journalistic excellence throughout his career. His list of awards includes many honors for feature reporting and spot news. He was a national finalist in the 1995 Edward R. Murrow Awards and won Emmy Awards in 1988, 1987, 1986, and 1985 for Outstanding News Feature Reporting. He was also honored with the United Press International award for Best News Feature in 1986, 1985, and 1981.

In addition, Mathie was cited with an Illinois Broadcasters Association award for best spot news reporting among Chicago television stations in 1977, and in 1971, he received the Distinguished Alumnus in Broadcasting Award from Marquette University's School of Speech.

Mathie is a Wisconsin native. He graduated from Milwaukee's Marquette University with a B.A. degree in Speech/Radio and Television.

An avid golfer, he resides in the northern suburbs of Chicago with his wife, Mary. They have three grown children, two grandsons and another on the way.

---