CHICAGO (WLS) -- The Chicago area's first measurable snowfall of the season dropped about six inches in most areas on Sunday, and nearly nine inches west of the city.
O'Hare International Airport saw 6.4 inches of snow - the biggest one-day snowfall since Nov. 21, 2015.
Slushy roads could turn icy Monday morning as temperatures started to drop late Sunday. Fog is also expected to cause low visibility during the morning rush hour.
Looking ahead this week, after an unseasonably warm fall, winter is finally here.
Temperatures on Monday and Tuesday is expected to be in the mid 40s, but Wednesday could bring the coldest weather the Chicago area has seen since mid-February.
SUNDAY SNOW
The snow started falling at daybreak Sunday in the Chicago area and turned slushy as it hit the ground. The snow caused 17 crashes on the roadway, according to the Illinois State Police.
Snow appears to have been a factor in a crash in the Bridgeport neighborhood, where a police vehicle was involved in a multi-vehicle crash in the 1200 West Pershing. Two officers were hospitalized with non-life-threatening injuries. Four other adults were also hospitalized.
About 280 flights were cancelled at O'Hare International Airport. Sunday evening, flights were about 24 minutes delayed. At Midway Airport, 74 flights were grounded and planes were running about 24 minutes behind.
From 7 a.m. to 6 p.m. Sunday, a Winter Weather Advisory was in effect in Cook, McHenry, Lake, Kane, DuPage, Kendall, Grundy and Will counties in Illinois and Lake and Porter counties in Indiana. In DeKalb County, a Winter Storm Warning was in effect until 6 p.m.
The snowfall was more than expected - only 1-3 inches was predicted. However, after an unseasonably warm November, city officials were ready.
Doppler 7 MAX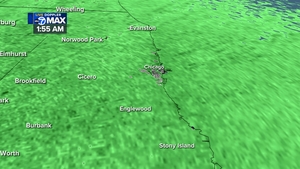 CLICK HERE to see the latest radar view from LIVE Doppler 7 MAXSNOW PREP
Chicago's snow crews were ready once the snow started to fall with more than 200 trucks. The Department of Streets and Sanitation has been preparing for the snow season since before the last one ended in early April.
The city had at least 19 piles of salt stockpiled for a total of 375,000 tons to start off the season. The city had some advanced notice of Sunday's snowfall and crews sprayed roads such as Western Avenue and Lake Shore Drive with beet juice that prevents anything from sticking to it and helps the road from getting slippery.