CHICAGO (WLS) -- Frigid temperatures are coming Monday morning following a two-day weekend snow storm that dumped 3-8 inches throughout the Chicago area, with higher snow amounts in the northern suburbs and northwest Indiana.
Snow mostly cleared out by 10 p.m. Sunday, leaving slushy roads in Chicago and southward as temperatures dropped throughout the day. Further north toward the Wisconsin border and in northwest Indiana, temperatures were colder Sunday allowing for more snow accumulation.
Monday morning brings cold Arctic air, dropping temperatures into the 20s and teens. The slushy roads are expected to turn icy Monday, impacting the morning commute.
This weekend's snow band, which stretched more than 1,000 miles, sparked Winter Storm Warnings for all of the Chicago area most of the weekend.
More than 1,200 flights were canceled at both O'Hare and Midway airports. Among those stranded were boy band
OneRepublic, which tweeted Sunday that they could not make it to their concert in Las Vegas due to the snow storm
.
SNOW TOTALS: At about 10 p.m., O'Hare International Airport reported nearly 7 inches of snow and Poplar Grove in Boone County near Wisconsin had 7 inches. Several suburbs had between 7 and 8 inches of snow, including Elgin, St. Charles, Lake Villa, Libertyville and Marengo.
The snow storm impacted much of the Midwest, including Detroit where a Delta plane slid off the runway. No one was hurt. In Sheboygan, Wisc., more than half a foot fell causing dangerous road conditions. In Cleveland, roads were a mess as the snow continues to fall late Sunday. More than a foot fell on Saturday, and it's expected to continue through Monday morning there.
DOWNLOAD THE APP:
ABC7 Chicago Weather App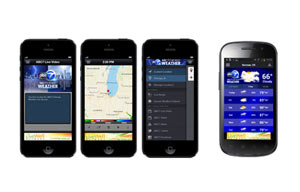 A Winter Storm Warning continued to be in effect until midnight Sunday for the following counties: Cook, DeKalb, DuPage, Grundy, Kane, Kendall, LaSalle, Lake, McHenry and Will Counties, as well as Lake and Porter counties in northwest Indiana.
Doppler 7 MAX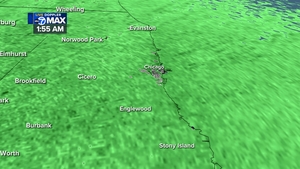 CLICK HERE to see the latest radar view from LIVE Doppler 7 MAX
The snow kept plow truck drivers busy. Driver Daniel Serwas was getting dozens of calls via a phone app similar to Uber, called Plows and Mowz.
"It's easier for homeowners. It doesn't require a contract, there's no obligation on the customer side either. The pricing is up front so they pay via credit card," Serwas said.
Other homeowners preferred to do it themselves. The sound of snow thrower engines rang through neighborhoods.
Homeowner Steve Noronah plowed three times on Sunday..
"Probably a couple more times at least, but that's OK," he said Sunday evening.
WATCH: CHICAGOANS DIG OUT, GRAPPLE WITH 2ND ROUND OF SNOW
Nearly 300 snow plows were on the streets Sunday, focusing on arterial streets and then turning to side streets once the snow stops falling.
The snow has made roads in parts of the Chicago area slick and slushy. As of 6 a.m. Sunday, Illinois State Police said there have been 86 crashes, nine involving injuries. None of the injuries are serious, police said.
WATCH: ROADWAYS SLUSHY, SLIPPERY
Evanston officials declared a snow route parking ban, which makes parking illegal on main thoroughfares from 11 p.m. Sunday until 6 a.m. Monday.
In one apparent weather-related incident, a 62-year-old woman was pinned under a vehicle in the city's Roscoe Village neighborhood. At about 10:20 a.m., the driver of a 2010 Hyundai Elantra traveling on North Western Avenue attempted to stop at a red light but skidded into the intersection. The 25-year-old driver reversed out of the intersection and hit the female pedestrian. She was transported in critical condition to Illinois Masonic Hospital.
At the airports, passengers were seen sleeping in the airport in lounges as departure boards displayed the flight cancellations.
"It just ruins everything. I had to scramble call American Airlines, I got the ticket with Spirit, to see if American was doing flights to Miami and now I'm on a flight on American Airlines," traveler Daniel Gonzalez said.
Richard Watson was traveling from Mexico to Washington D.C. and had a layover in Chicago and he is concerned about his health.
"I'm a little concerned because I'm a liver transplant patient and last night was the last dose of anti-rejection meds that I'm carrying so I need to get back to Washington today," he said.
WATCH: FAITHFUL BRAVE SNOW AT SHRINE OF OUR LADY OF GUADALUPE IN DES PLAINESCLICK HERE for the latest 7-day outlook from the First Alert Weather Team: