CHICAGO (WLS) -- The city of Chicago and the surrounding suburbs were mainly spared from serious damage as storms moved through Wednesday night and primarily took aim south and west of the area, producing tornadoes in the Ottawa and Pontiac areas.
Fans attending the Chile vs. Colombia Copa America match at Soldier Field were told to take cover and shelter in place in the stadium concourse area and instructed not to leave the stadium around 8:15 p.m. A Soldier Field official said there are about 50,000 fans in attendance. The game resumed at 10:25 p.m. after officials were given an all clear from the National Weather Service and fans returned to their seats.
"I started getting nervous because I was just like, let's just jump the rows all the way down because people were just taking their time, they didn't take it seriously, and they were just repeating on the microphone 'Dangerous weather. Seek shelter. Go to the lower level.' He just kept repeating that over and over and I was like, oh my god, what are we doing here?" said Daniela Bruere, from Washington, Ill., which was hit by tornadoes several years ago.
Navy Pier was closed due to severe storm conditions and strong winds Wednesday night, and the AON Summer Fireworks show was cancelled, according to Navy Pier officials.
As of 8:30 p.m., 325 flights were canceled at O'Hare International Airport and more than 70 flights were canceled at Midway International Airport, according to the Chicago Department of Aviation. At O'Hare, inbound and outbound flights were delayed 30-90 minutes. Delays of 60 minutes were reported for about a dozen inbound and outbound flights at Midway.
PHOTOS: SEVERE WEATHER IN CHICAGO AREA
ComEd says they have 15,000 customers without power, most in the southern region of the Chicago area.
Police in Palatine say there was heavy flooding due to storms near downtown and 320 N. Northwest Highway, causing cars to float.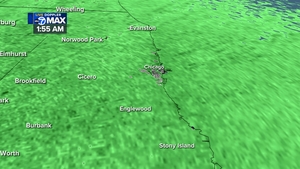 CLICK HERE to see the latest radar view from LIVE Doppler 7 MAX