NEW YORK --
This week began with DeMario groveling to Rachel, trying to weasel his way back into the house on "The Bachelorette." The remaining men ran to the driveway where security told them all to stay back. It was really pathetic, DeMario started quoting people and started begging. Rachel said she needs a man who when confronted with a difficult situation acts like a man. Buh-bye! She told the guys, "I'm good." She doesn't need a man to make her decisions for her, this is a woman who knows what she wants! Yeah!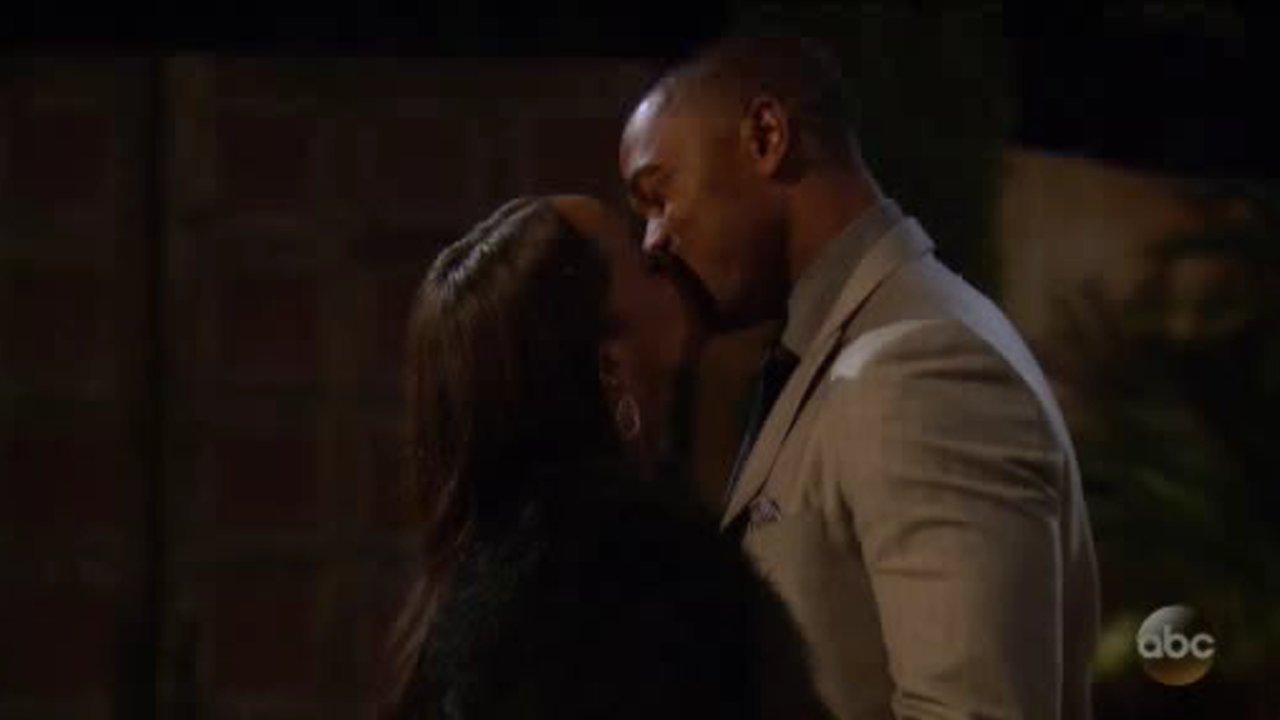 The guys said that they had a tremendous amount of respect for the way that Rachel handled herself and the DeMario situation. It was time for the cocktail party before the rose ceremony. Jonathan, the tickle monster, brought some giant hands with him and Rachel tried them on! It was really funny! Alex pulled out the Rubix cube during their time together and nearly solved it during their short conversation! Kenny showed Rachel pictures of his daughter. Will played mini basketball with Rachel and they seemed to have a great rapport and finished their time with a kiss! Whaboom made Rachel laugh and Blake didn't like it. Whaboom even tried to address the Blake situation with Rachel but made a joke of it and said that Blake was eating a banana over his bed. HA! Rachel confronted Blake about the banana situation which Blake denied.
Rachel already gave date roses to Peter, Dean and Josiah. She gave the rest of her roses to:
Bryan
Bryce
Eric
Anthony
Will
Jonathan (the tickle monster lives!)
Jack
Matt
Alex
Adam
Kenny
Brady
Lee
Iggy
Fred (camp love!)
Diggy
That meant that Rachel is done with the drama (for now) Lucas and Blake are gone! No more Whaboom! Blake thought this would be good time to confront Whaboom and it was one of the most ridiculous confrontations in "Bachelorette" history. It really was.
You can watch the fight in the video above!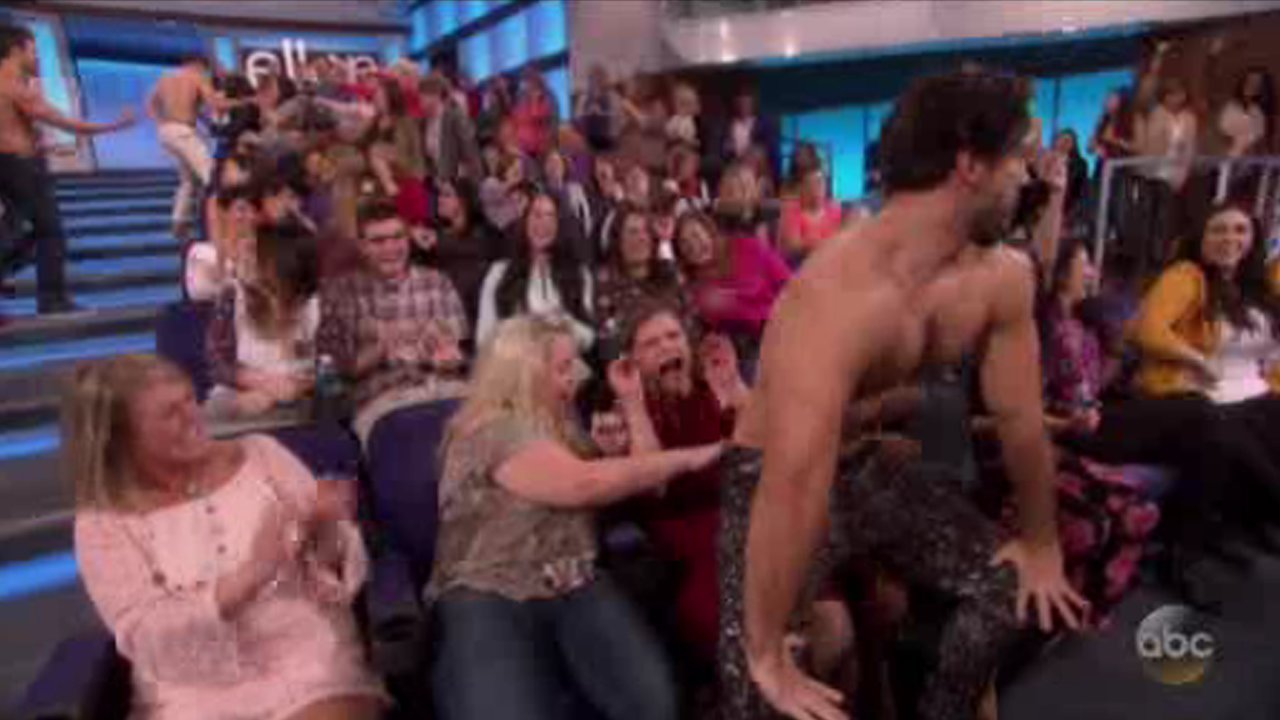 Chris Harrison announced that there would be two group dates and just one one-on-on date. The first date card arrived and it said, "Bryan, Jonathan, Peter, Alex, Will and Fred: Lights, camera, action! Come join me on the set of 'Ellen.'" Rachel met up with Ellen DeGeneres and she told her that the guys thought they were just coming to watch Rachel during a taping, but they are actually going to be a part of the show. Ellen met the guys and interacted with them and it was awesome. She even tickled the tickle monster. The guys waited backstage while Rachel went out on the stage with Ellen and couldn't believe that they were going to be on the show. Ellen asked if the guys were shocked to find out that Rachel kissed someone and Jonathan asked when his turn is while Bryan said that the other guys would get his "sloppy seconds." What?! He kisses and tells. Then Ellen had the guys take their shirts off and go dancing into the audience! The guys turned the audience into a strip club! It got very "Magic Mike!" Then they asked the guys were asked a bunch of questions and Rachel talked again about how Fred was a bad little boy at camp. Fred is hoping she can let it go and focus on the real him.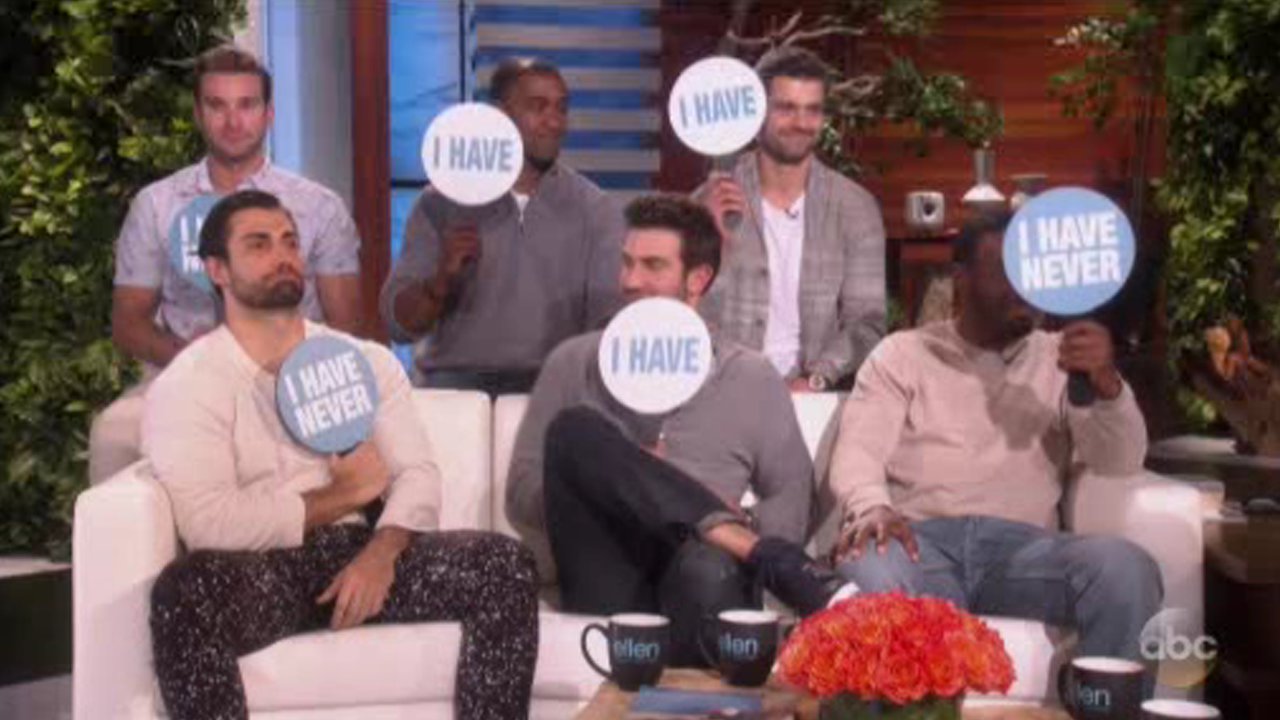 Then the guys had to answer if they had kissed Rachel before and it was split, and Rachel agreed with the results!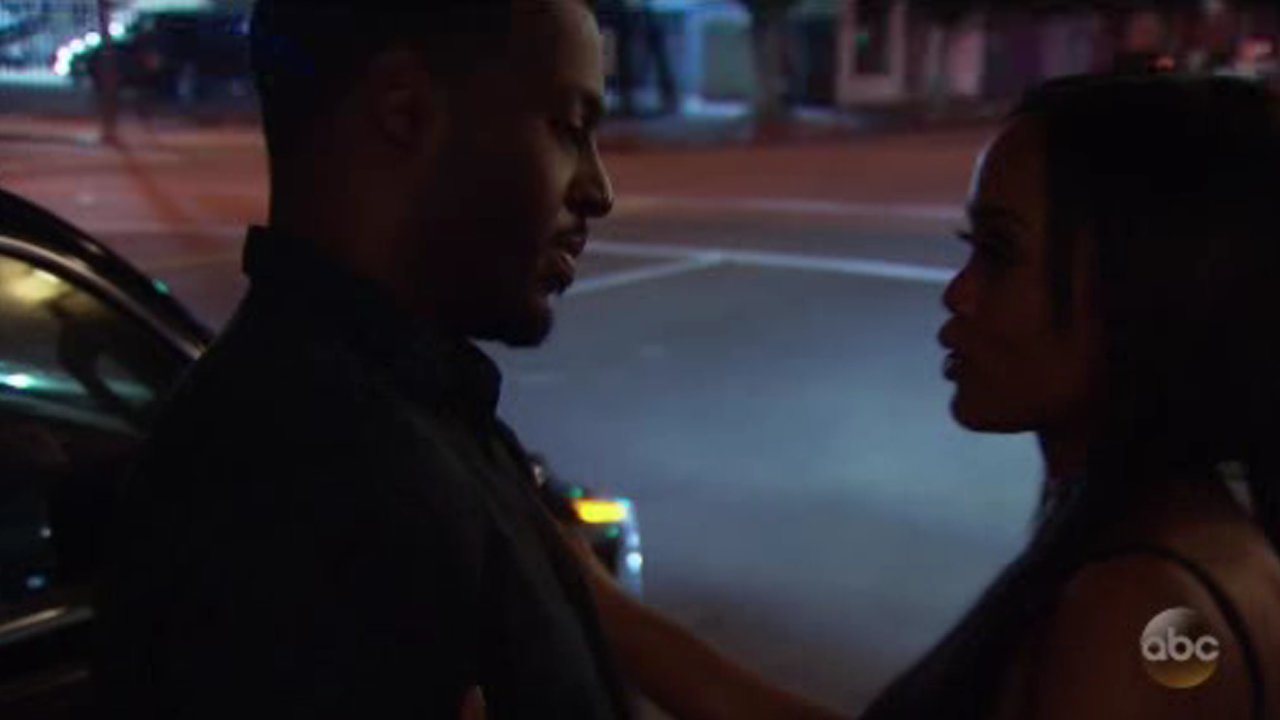 Later on the group date, Alex talked to Rachel about how on the "Ellen Show" he wasn't nervous, but with Rachel he is. They did some kissing! She's really starting to like him. She spent her time with Will and Bryan kissing them (separately!) She kissed Peter and told him that she never wants to get up off of his lap, wow! Fred meantime, is plotting his move. He really wants to kiss her and says he's been waiting 20 years! He asked Rachel if he could kiss her, and Rachel said that made her feel awkward. So Fred just kept talking and then went in for it! He said he felt bliss, but her eyes didn't seem to express that same emotion. She grabbed the date rose and pulled Fred aside to talk. Instead of giving him a rose, she let him go. She told him that she couldn't change the way she has always felt. Why did she hold that rose the whole time? That was kind of cruel. He really felt like he was going to get the rose! He graciously allowed her to walk him out. This breakup stung. You couldn't help but feel terrible for the guy! Rachel returned to the room and gave the group date rose to Alex.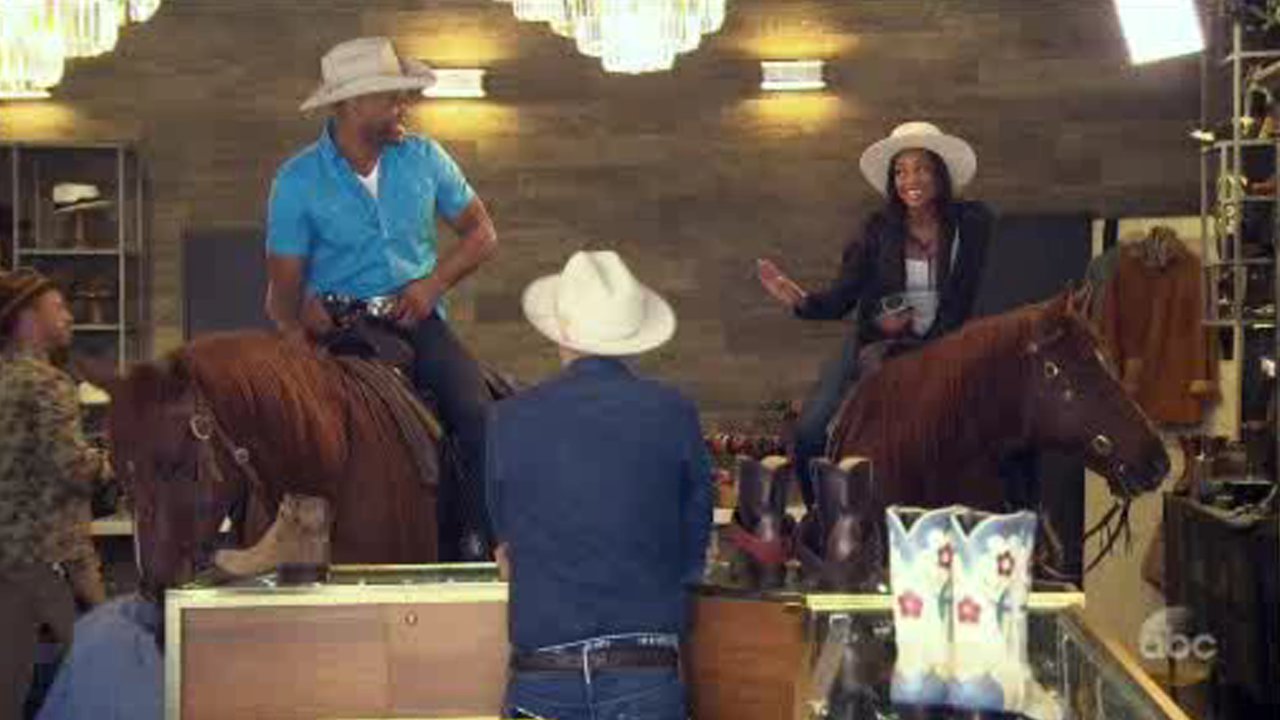 The next day on Rodeo Drive, Anthony got to go for a horseback ride on their one-on-one date. This was his first time riding a hose! He mounted the horse and off they went! He said he felt a bit weird riding the horse because everyone was taking pictures of them and even a bus of people screamed at them. They got to ride their horses into the stores! They got matching red boots and some white cowboy hats. They got cupcakes and even sipped champagne on their horses. Unfortunately, one of them had a poop incident in one of the stores. Anthony said, "Ted is too glam to give a damn!" Ha that was so funny! Later they shared a romantic dinner complete with dancing to a live band under the stars! He shared how he had a charmed childhood and how he wanted to pay that forward to the children of the world. This guy seems great! Rachel said the date was like a fantasy. She gave him the date rose and it seems like there's another man to look out for! Iggy went over to talk to Eric about how insecure he is and how he shouldn't say that the process isn't real just because things haven't been going so hot for him. It was a bit weird!
It was time for another group date! This date card read, "Brady, Dean, Adam, Kenny, Bryce, Lee, Jack and Eric: Sometimes in relationships the women have to take charge." Eric has a big plan to ask Rachel if she's into him or not so they don't waste their time. Rachel walked into the mansion with Raven, Corrine, Jasmine, and Alexis! They are going to try to weed through these men to see if they are genuine. They all loaded into a limo bus and the ladies made Bryce work the pole in there because he's a firefighter. The other guys took the opportunity to do the same and the women went wild. Raven started asking the guys who wouldn't be a good match for Rachel and two guys told her Eric. You know she's going to report back to Rachel! The guys entered a bar and found out that they would be mud wrestling! Kenny is very excited because he's a professional wrestler! He did amazing, but he was beaten by Bryce! Who knew that Bryce and his amazing hair won the day! Rachel's friends shared their favorite guys and several of them liked Dean! Raven did say that Bryce and Lee said that Eric isn't there for the right reasons, but Jasmine said that she thinks it just might be the pressure of the show. Rachel wants to get to the bottom of it, nonetheless.
Later that evening, Kenny revealed to Rachel that he used to be a Chippendale's dancer! It's great to see a lighter side of him! He ripped off his tank top and did a little dance for Rachel. Dean continued to have a great time during their talk and at last it's the talk we've all been waiting for. Eric held Rachel and told her that it's the first time he doesn't know what to do. He told her that he's vulnerable and she told him that she genuinely wants to get to know him. However, then she added the guys are talking to her friends about him not being there for the right reasons. He said that isn't true and did his best to alleviate her fears. Eric chose to go back to the campfire and talk to the guys and he started talking to Lee about what was said about him to Rachel. Lee kept telling Eric that he loves him to death but that his perception changed of him when he yelled at Iggy the other night. With that, a new villain emerges. Lee seems like he cannot be trusted. Rachel returned to the group and decided to give the rose to Eric! So apparently, she believes that he's here for the right reasons.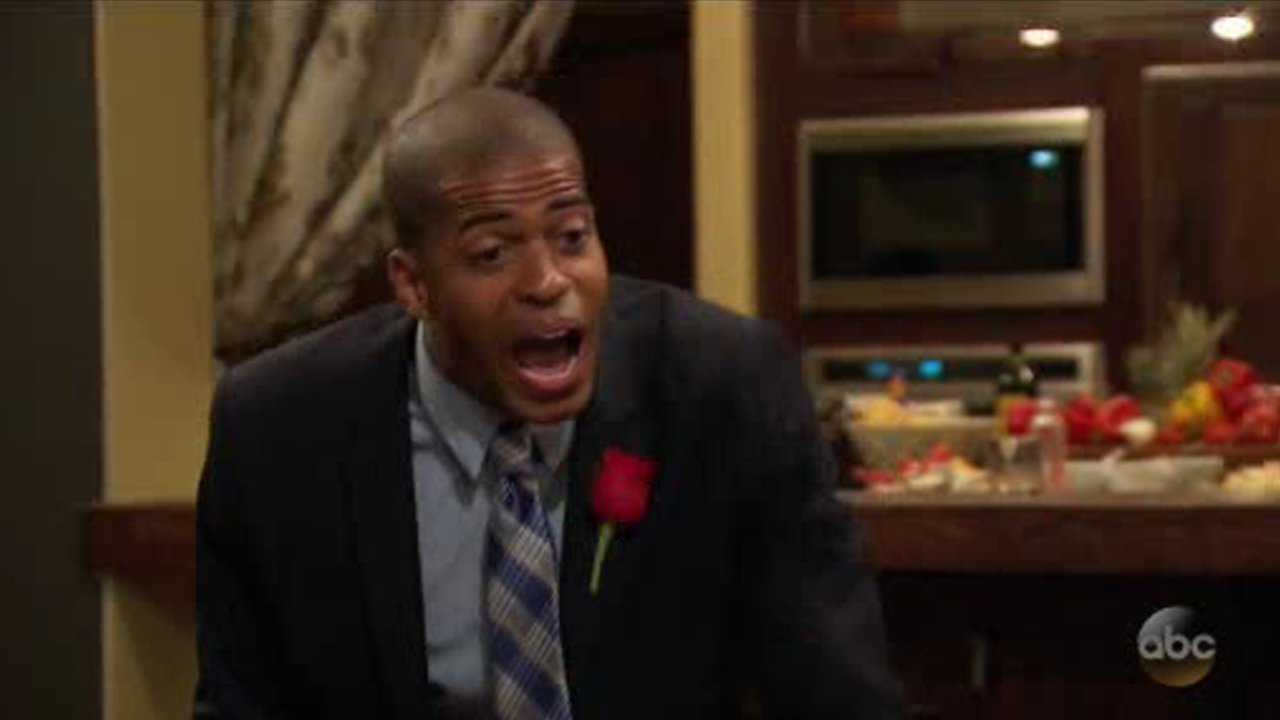 Just like that, it was time for another cocktail party! Iggy used his time to talk to Rachel about Eric. He seems like a sweet guy whose heart is in the right place. It's just unfortunate they didn't get to talk about anything else. Lee also threw Eric under the bus...and had fun doing it. Just wait until Rachel sees this episode back! Rachel then goes on the search for Eric to talk to him. Rachel asked him why the guys are going after him and asked Eric if he questioned whether she was there for the right reasons. He denied ever questioning her. She then tells him that she's questioning her decision to give him the date rose. She tells him she will give him the benefit of the doubt, but her "antennas are up." Eric calls all of the guys in and says that "my name is in everybody's mouth." He asked them to not make it about him and make it about Rachel. Oh goodness, he cannot stop talking! He starts screaming at Lee, and one has to wonder if Rachel can hear this! Lee starts to pick on the other men in the house and it seems as though some serious issues with racial tension start to come up. We'll have to wait until next week to see how everything plays out, but one thing is for sure, it puts a lot of pressure on an already stressed Rachel.