CHICAGO (WLS) -- The Chicago area saw its first measurable snowfall of the season Friday. It was pretty to look at, but terrible to drive in for some motorists who were on the road when flurries turned to snow showers.
What started out as a light dusting early Friday morning became heavy enough to make downtown sidewalks slippery and area roads dangerous.
There were several spinouts and crashes on the Eisenhower Expressway late Friday morning, as snow-covered roads turned icy and prevented drivers from gaining enough traction. Thankfully, in most of these incidents, no one was hurt.
Tow-truck drivers advised motorists to slow down and keep a safe distance from other vehicles.
"Everybody in a hurry. People need to just slow down because of the weather. Just take your time. It's no rush to race to a red light. Just slow down, take it easy," said Lance Wilson, a tow truck driver who responded to crashes Friday morning.
Doppler 7 MAX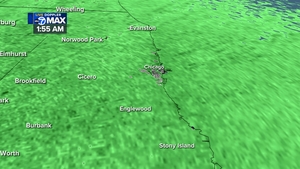 CLICK HERE to see the latest radar view from LIVE Doppler 7 MAX
The Illinois Department of Transportation said it deployed about 25 snow fighting trucks to clear the highways, but not before there was an eight-car pileup involving a state police car on the outbound Kennedy at about 1:15 p.m.
The city's Department of Streets and Sanitation deployed 210 snow plows to salt and plow arterial routes in the city during the morning rush hour, according to a statement from the department. Plows also hit the road in northwest Indiana early Friday morning.
"We're never caught off guard with snow. We were prepared," said Deputy Commission Cole Stallard of the Chicago Department of Streets and Sanitation.
Dempster Street was shut down at North Milwaukee Avenue in north suburban Niles because of slick roads until 2 p.m. Friday.
Chopper 7HD captured a unique view as it flew from the suburbs to Chicago around the same time: a wall of clouds dumping snow on the city and impacting visibility.
Some people were excited to see the snow, but others vehemently disagreed.
"I was so happy when I walked out of my apartment because I was already listening to Christmas music. So this is like, perfect. I was like, wanting it to snow yesterday," said Elizabeth Vande Griend, who loves the snow.
"I don't love it. She does, but I don't. I'm not going to admit that, yeah," said Craig Vandergalien, who definitely does not love the snow.
Mary Recchia was unprepared for snow and couldn't find her scraper.
"Should I sit in my car and wait for it to melt with the heat? Or should I go, like now, I decide to go out and get my scraper, find my scraper?" she said.
CLICK HERE for the latest 7-day outlook from the ABC7 Weather Team
By around 11 a.m., the snow had started to taper off in the downtown area and shift north. The snow is expected to end by around 3 p.m. Accumulations of a dusting to half an inch are expected.
The Chicago area tied the record-low temperature for Nov. 10 at 18 degrees Friday morning. The average low for Nov. 10 is 35 degrees.
Temperatures are expected to hover in the teens in the morning and only warm to the low 30s in the afternoon. Commuters should dress accordingly, in light layers, with a warm coat, scarf, hat and gloves.