CHICAGO (WLS) -- Heavy rain throughout Thursday caused some flooding and standing water in Chicago and nearby suburbs.
Windshield wipers got a work out, not only from heavy rain but spray from when standing water met motorists.
In Orland Park, the heavy rain covered some roads and made driving particularly challenging. Public Works crews pumped excess rainwater out of drains onto farmland. But the work to clear roads in Orland Park actually began Tuesday, when crews cleared streets of debris in anticipation of the storm.
Flooding was seen widely in the city and suburbs. The Illinois Department of Transportation closed Southwest Highway (IL-7) between 131st Street and 135th Street due to flooding. Officials said it will be closed for at least a few days.
In Monee, lightning struck a home, discharged into the ground and ruptured a gas line in south early Thursday morning, forcing the evacuation of several homes in the area.
"Eight homes were evacuated and the gas shut out to those homes," Monee Fire Chief Carl Nieland said.
People were kept far away from the 25800-block of South Sunrise Drive later Thursday morning, because gas was still escaping from the broken 2-inch gas main. It did so with such force that it pushed rain water about 2 feet in the air.
"At 1 o'clock this morning, a big boom came. Then all of a sudden, I smelled gas," said Betty Sawallisch, who lives in the area.
Sawallisch said she immediately called 911. When firefighters and police arrived, they told her it wasn't safe to stay in her home. She headed out to her son's house.
"At 1:30 in the morning what do you take? I took nothing but me and my husband. And the two cars because they had gas in it. I didn't want them to explode," Sawallisch said.
The Monee Village Hall was opened about 2:30 a.m. for those in need of shelter.
Nicor crews located the origin of the leak and worked to cap it so that people can return to their homes. But as of 11 a.m. Thursday, there was still a chance more families could be asked to leave.
"There's still a possibility we could be evacuated. Depending on how the wind ends up, the gas could blow down this way," said Casey Domke, who also lives in the area.
No injuries were reported.
Strong storms possible Thursday afternoon
A warm front expected to move into the area in the afternoon will generate more storms - some of which could approach severe, especially south of the city.
Those storms could produce large hail and cause localized flooding. There is a marginal risk for severe weather south of Pontiac and the Kankakee-Valparaiso line. The rain is expected to diminish quickly, by around 6-7 p.m.
Doppler 7 MAX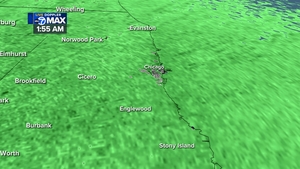 CLICK HERE to see the latest radar view from LIVE Doppler 7 MAX
Navy Pier officials closed the Centennial Wheel Thursday because of the weather. They said they would let the public know when the attraction would reopen.
More than an inch of rain fell on the Chicago area Thursday morning, creating a tricky commute for drivers. Depending on where they were headed, the rain ranged from light to heavy, with lighting and thunder at times.
In southwest suburban Orland Park, high-standing water forced crews to shut down parts of Wolf Road between 157th and 159th streets.
High temperatures will vary across the Chicago area Thursday. Highs will be in the mid-40s near the lake and could reach the low 60s inland.
A few showers are expected Friday morning, before the system moves east. Skies are expected to clear moving into the weekend, when highs will be in the mid-50s.
CLICK HERE for the latest 7-day outlook from the First Alert Weather Team:
The Sun-Times Media Wire contributed to this report.