CLEVELAND (WLS) -- The Chicago Cubs won the World Series for the first time in 108 years, beating the Cleveland Indians 8-7 in 10 innings. Ben Zobrist was named World Series MVP.
ABC7 was told a celebration is anticipated to be held on Friday, but nothing is confirmed yet.
Next year is here.
"It happened. It happened. Chicago, it happened," first baseman Anthony Rizzo said. "We did it. We're world champions. I tell ya, we're world champions. I can't believe it."
Lovable losers for generations, the Cubs nearly let this one get away, too. All-Star closer Aroldis Chapman blew a three-run lead with two outs in the eighth when Rajai Davis hit a tying homer.
But the Cubs, after tormenting their fans one more time, came right back after a 17-minute rain delay before the top of the 10th.
Ben Zobrist hit an RBI double and Miguel Montero singled home a run to make it 8-6. Davis delivered an RBI single with two outs in the bottom half, but Mike Montgomery closed it out at 12:47 a.m., and the celebration was on.
Man predicts 2016 Cubs World Series win in 1993 HS yearbook
If Cubs win World Series, restaurant promises free Italian beef sandwiches
Blue-clad Cubs fans who traveled from Wrigley Field filled nearly the entire lower deck behind the Chicago dugout at Progressive Field, singing "Go! Cubs! Go!"
Manager Joe Maddon's team halted the longest title drought in baseball, becoming the first club to overcome a 3-1 Series deficit since the 1985 Kansas City Royals.
Cleveland was trying to win its first crown since 1948, but manager Terry Francona's club lost the last two games at home.
World Series favorites since spring training, Chicago led the majors with 103 wins this season.
The Cubs then ended more than a century of misery for their loyal fans - barely. Third baseman Kris Bryant, one of Chicago's young stars, began smiling even before fielding a grounder by Michael Martinez and throwing it across to Rizzo for the final out.
Zobrist was chosen as the World Series MVP, a year after he helped the Royals win the championship.
Zobrist was among the players brought to the Cubs by Theo Epstein, the baseball guru added another crown to his collection. He also assembled the Red Sox team that broke Boston's 86-year drought with the 2004 championship.
From Curse of the Bambino to the Billy Goat Curse, he ended another jinx.
After defeating San Francisco and the Los Angeles Dodgers in the playoffs, Chicago became the first team to earn a title by winning Games 6 and 7 on the road since the 1979 Pittsburgh Pirates.
While Cubs fans hugged with delight, there was only despair for the Indians, who now have gone longer than anyone without a crown.
Gamezone: Cubs World Series Game 7 box score, play-by-play recap
CUBS TWEETS: Follow the team as they celebrate their World Series win
Dexter Fowler homered on Corey Kluber's fourth pitch of the game, 23-year-old Javier Baez and 39-year-old David Ross also went deep for the Cubs, who led 5-1 in the fifth inning and 6-3 in the eighth.
Chapman wound up with the win and Montgomery got one out for his first save in the majors.
Bryan Shaw, who gave up a leadoff single to Kyle Schwarber in the 10th, took the loss.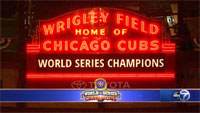 Download a memento photo of the Wrigley Field marquee
It was just the fourth time that a Game 7 went to extra innings, and the rain delayed play until 12:11 a.m. in a still-packed ballpark.
Albert Almora Jr., pinch-running for Schwarber, alertly took second on Bryant's long fly to center. Rizzo was intentionally walked and Zobrist slapped an opposite-field double past a diving third baseman Jose Ramirez. Montero singled to make it a two-run lead.
Then in the bottom half, Carl Edwards Jr. struck out Mike Napoli, Ramirez grounded out, Brandon Guyer walked and Davis hit an RBI single. Montgomery took over, and helped set off a wild celebration on Chicago's North Side.
Cubs jumped on each other between the mound and second base, and their fans in the stands kept cheering.
Twenty-one other teams had won the World Series since Cubs last were champions. They reached the top again on the 39,466th day after Orval Overall's three-hit shutout won the 1908 finale at Detroit in a game that took 1:24. At the time, Theodore Roosevelt was president, New Mexico, Arizona, Alaska and Hawaii were not yet states, and the first Ford Model T car was two weeks old.
The Cubs were last champions when Joe Tinker, Johnny Evers and Frank Chance won consecutive titles in 1907-08, until now the only ones in team history. The Cubbies had not even reached the Series since 1945.
This one was for Ernie Banks, Ferguson Jenkins, Ron Santo and Billy Williams, who never reached the postseason.
For Gabby Hartnett, Ryne Sandberg and Greg Maddux, whose October runs fell short.
For Lee Elia and the "nickle-dime people" who spent so many wind-swept afternoons in the Friendly Confines watching loss after loss.
For Bill Veeck, who planted ivy vines against Wrigley Field's outfield walls.
For William Sianis, the Billy Goat Tavern owner said to have proclaimed when he was asked to leave Wrigley with his pet during the '45 Series: "Them Cubs, they ain't gonna win no more."
For Steve Bartman, whose life was upended when he tried to catch a foul ball as the Cubs came apart in the 2003 playoffs.
And for Harry Caray, who promised viewers after the 1991 finale that "sure as God made green apples, someday the Chicago Cubs are going to be in the World Series."
Maddon, hired before the 2015 season, won his first Series title after establishing a loose clubhouse that featured at times Warren the pink flamingo, Simon the magician and the motto: "Try not to suck."
Mayor Rahm Emanuel released a statement, saying:

"From Opening Day in April to a historic November night, the Cubs championship season united the city of Chicago and fans around the world behind this incredible team. The Chicago Cubs winning the World Series is about more than a game, more than a team, and more than a sport. It is about the families who have passed down a love for the Cubs from mothers and fathers to their sons and daughters, and from grandparents to grandchildren. It is about generations who have come together around radios, televisions, and within the friendly confines of Wrigley Field to root for the home team and share triumphs and defeats. Cubs fans have never given up hope that this day was possible, and this young team made it happen. Congratulations to the Ricketts family, Joe Maddon, Theo Epstein, and the players, staff, and fans who together broke the longest drought in professional sports and made history this year. Go Cubs go!"
PHOTOS: 2016 MLB World Series
It happened: @Cubs win World Series. That's change even this South Sider can believe in. Want to come to the White House before I leave?

— President Obama (@POTUS) November 3, 2016
Cleveland's spring training opener is scheduled for Feb. 26 against the Cubs in Mesa, Arizona.
Suffice to say, the stakes won't be quite as high.
A quick scan of the team's schedules shows they DO NOT play each other in the 2017 regular season.
Baseball, a funny ol' game, isn't it?
TIME TO CELEBRATE
At exactly 11:47 local time, the Chicago Cubs won the World Series that has eluded them for 108 years. Fans who packed bars to watch the games on television near Wrigley Field - neither of which existed back in 1908 - erupted in cheers before swarming onto the streets just before midnight Wednesday to celebrate in the shadows of the statues of Cubs greats Ernie Banks, Billy Williams, Ron Santo and legendary announcer Harry Caray.
As the game ended, the roar from inside the bars and the throng of fans on the street was deafening, before the crowds both inside and out sang "go Cubs go" at the top of their lungs.
As the celebration progressed, thousands of fans poured into the streets leading away from Wrigley, many of them singing "We Are The Champions."
Fans hugged each other, many of them crying. They took each other's picture and pictures of themselves, and took turns writing their names and words of congratulations in chalk on Wrigley's brick walls. Some got on friends' shoulders to find spots high up on the walls that were not yet covered with names of fans.
PHOTOS: Cubs fans celebrate
An hour after the game ended there were still thousands of people in the ballpark neighborhood, known as Wrigleyville, and there were still fireworks exploding every few minutes.
"This was torture," said Mike Delmanowski, a lifelong Cubs fan who flew to Chicago from California just to be surrounded by other Cubs fans. "I would not have missed it for anything.
"I am so proud to be a part of it," said his wife, Sue, who was crying off and on from the fifth inning.
Mike Dillon said all he could think about was his father, who died without ever seeing what Dillon witnessed.
"I came here by myself, but I'm not alone at all," said Mike Dillon, 57, of Joliet.
Craig and April Likhite drove to Chicago from Evanston with their 10-year-old son, Cade, because they wanted to see history made with other fans as close to Wrigley Field as possible.
"To finally see this in my lifetime with my son here with us, it means everything," Craig Likhite said. "This game with all the ups and downs showed him exactly what it is to be a Cubs fan."
"My dad passed away this year. He would have loved this," said Likhite, 50.
Liz Wolfe, a 36-year-old physical therapist, said, "People always said if the Cubs win the World Series it would be like hell freezing over. I'm still in shock. This is the most exciting thing in my life."
The 8-7 extra-inning victory over the Indians at Progressive Field in Cleveland came after the emptiness and bitterness of years past when the Cubs found spectacular and sometimes downright strange ways to snatch defeat from the jaws of victory.
Every Cubs fan knows those stories, starting with the 1969 team loaded with Hall of Famers that amassed a 9 1/2-game lead in mid-August before they started losing game after game in such numbers that the Miracle Mets not only caught them but ended up winning the National League East by 8 games.
Then came 1984. After taking the first two games of the National League Divisional Series against the Padres at Wrigley, the Cubs needed just one win in San Diego to advance to the NLCS. They were swept in three games on the West Coast.
There were other playoff losses but none as painful as in 2003 when in a where-were-you-when-it-happened moment that Cubs fans still have trouble comprehending, Steve Bartman deflected a ball that seemed destined for Moises Alou's glove with the Cubs just five outs from reaching the World Series.
congrats to the chicago cubs one of the best world series i ever see to the organization players and fans great job CONGRATS !!!

— Ozzie Guillen FND (@OzzieGuillen) November 3, 2016
Bill Murray surprises Chicago Cubs fan with extra ticket to World Series game
What is the meaning of Eamus Catuli sign hanging outside Wrigley Field?
Fan keeps home run ball for veteran who missed World Series
Fans watched in horror as the Cubs fell apart, and few who left the park that night believed the team would win game seven the next night. They didn't.
But that was all in the past as Cubs fans throughout Chicago celebrated into the early hours of Thursday.
HISTORY IN WRIGLEYVILLE
Whether you count it 108 years or 71, this team and these fans have been waiting a long time for a World Series victory. Now they're celebrating.
"What part of 'we never quit' did Cleveland not understand? We never quit!!" proclaimed fan Jason Gilley earlier in the day.
"I'm born and raised up in the South Side of Chicago. All Sox fans, only Cubs fan," said Brandon Getzloff.
"I've been a season ticket holder for 30, 35 years. I'm so excited," said Jan Hann.
"My first heartbreak was in '69. My daughter, her first heartbreak was in '84. And my grandson, his first heartbreak was in 2003," said Dan Velasco.
"It's been such a great atmosphere. It's... my heart is bursting," said Valerie Pappas.
"This is Chicago's very own Field of Dreams," said Mayor Rahm Emanuel.
SECURITY TOP OF MIND DURING CELEBRATIONS
Police saturated Wrigleyville, taking up positions along Clark Street and on circular perimeters that ripple out from an empty Wrigley Field.
The rain kept crowds down early but as the game progressed and Cubs' lead widened, fans began migrating in as if being called to baseball's Mecca.
Although the atmosphere is festive, it began this way with previous sports championships. After each of the Bulls' NBA titles, crimes were committed under the cover of celebration. Looters crashed West Side stores on midnight shopping sprees and arsonists set fires.
More recently, following the Blackhawks Stanley Cup title, revelers went overboard throwing bottles at police and vandals damaged Lincoln Park stores.
"We do have enough resources in place to mobilize city-wide if necessary," said Richard Guidice, director of Chicago Office of Emergency Management.
Since the Bulls and Blackhawks began dynasty-building 25 years ago, each championship has been followed by some violence and police have refined their crowd control tactics.
Hundreds of uniformed officers boarded buses Wednesday afternoon and were taken to Wrigleyville to set a perimeter and checkpoints, backed by Illinois State Police that have an armored SWAT vehicle tucked away on a side street just in case.
Police sources also said a fleet of rented vans are also fueled up in case a quick deployment is needed in other parts of the city. Chicago budget officials said Major League Baseball is not paying for police overtime.
"We haven't calculated any costs as of yet. We can wait and have that discussion after the World Series," Guidice said.
GAME 6 AND 7 PARKING RESTRICTIONS
Cubs fans headed to Wigelyville and residents in the neighborhood should be aware of parking restrictions in effect around Wrigley Field.
No parking between Tuesday, Nov. 1 at noon through Friday, Nov. 4 at 4 a.m.:
- Clark from Aldine to Irving Park
- Sheffield from Grace to Roscoe
- Addison from Halsted to Southport
- Racine from Clark to Roscoe
- Irving Park from Clark to Seminary
- Eddy from Clark to Racine
- Cornelia from Clark to Racine
- Newport from Clark to Racine
- Patterson from Clark to Racine
- Clifton from Waveland to Grace
- Seminary from Waveland to Grace
- Kenmore from Waveland to Grace
- Seminary from Newport to Eddy
- Cornelia from Wilton to Sheffield
- Grace from Wilton to Clark
- Waveland from Wilton to Racine
- Waveland from Wilton to Racine
Through Wednesday, Nov. 2, motorists and residents can also expect parking restrictions from 5 p.m. to 6 a.m. daily, on the following streets:
- Webster from Sheffield to Bissell
- Lincoln from Webster to Fullerton
- Division from State to Dearborn
- Hubbard from State to LaSalle
- Wells from North Avenue to Division
- Kinzie from State to Clark
The Associated Press contributed to this report.