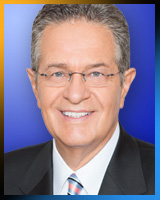 Ron Magers, alongside Kathy Brock, co-anchored the No. 1 rated and most watched newscast in Chicago, the ABC 7 News at 10:00 p.m. He also co-anchored the ABC 7 News at 5 p.m., alongside Cheryl Burton, which was the top rated newscast in its time period. Well-known and widely respected across the nation for his live coverage and reporting, he joined ABC 7 Chicago in 1998 as co-anchor of the 5 p.m. news and joined the 10 p.m. team in 2002. Ron retired on May 25, 2016 after a broadcasting career that spanned more than 50 years.

In addition, Magers' insightful and entertaining perspective on what's happening around town and around the world was heard weekdays during the Roe Conn show on WGN Radio (720).

Before he came to ABC 7, Magers anchored the 5, 6, and 10 p.m. newscasts on Chicago's WMAQ-TV. Prior to his position at WMAQ, he was the principal news anchor at KSTP-TV in Minneapolis, Minn. (1974-81).

From 1968-74, Magers worked as a reporter and anchor at KPIX-TV in San Francisco, Calif. Before that, he produced and anchored the 11 p.m. newscast at KGW-TV in Portland, Ore. (1967-68).

Magers began his television career in 1965, when he joined KEZI-TV in Eugene, Ore., as a reporter and news anchor. He gained early broadcasting experience as a high school student in Toppenish, Wash., when he began to host radio shows as a part-time job. He continued to host at various radio stations throughout his college career.

Love for live television and talent as a broadcaster has translated into numerous awards for Magers, including seven Chicago Emmy Awards, a Peter Lisagor Award and a National Press Club citation. In addition, he has won an Associated Press award, an Illinois Broadcasters Association award, the Ohio State Award, and an Ethics Award from the Society of Professional Journalists.

Magers is a member of the American Federation of Television and Radio Artists. He supports Heartland Alliance, Baseball Cancer Charities, Northwestern University Settlement House, Howard Brown Health Care, Greater Chicago Food Depository, the Grant Park Music Festival, and Hubbard Street Dance Chicago among others.

His hobbies include boating as well as breeding and racing Thoroughbred horses.

Born in San Bernadino, Calif., Magers grew up in Alaska and Washington State.

He is married and lives in Chicago.

---
Archive
After 50 years in TV news - much of that here in Chicago - Eyewitness News anchor Ron Magers is about to retire.
Bears legend Jim McMahon says medical marijuana got him off a heavy prescription pill habit.
Joseph Karriem, 17, got to fly with an aviation legend on an Oracle Team plane.