CHICAGO (WLS) -- Tuesday night was beautiful, warm, calm and clear, but storms are coming Wednesday likely bringing downpours, hail, extremely gusty winds and the potential for tornadoes.
A predicted severe weather outbreak Wednesday would come exactly one year after a tornado ripped through Coal City with winds in excess of 120 miles per hour, a twister nearly half a mile wide.
Residents could see particularly severe storms, and even the possibility of an isolated tornado, between 5 a.m. and 10 a.m. and then again between 6 p.m. and 11 p.m. As of 10:30 p.m. Tuesday night, the most severe threats appear to be in the south suburbs.
In anticipation of Wednesday's threat of severe weather, ComEd talked about basic preparations for people who might be in the storm's path.
"We're monitoring the weather closely, we're going to open up our command center, tomorrow we have our crews prescheduled and our contractor crews also on alert to respond. We are gearing up to respond to outages. We'll be working around the clock as needed to restore power to our customers," says Terry Donnelly of ComEd.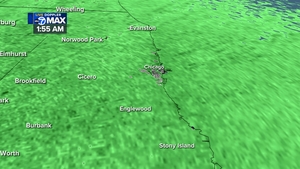 CLICK HERE to see the latest radar view from LIVE Doppler 7 MAX
In Northwest Indiana, a similar warning is being issued by NIPSCO. They want customers to be ready and have a plan in place.
"People turn to their phones when the power is out. Make sure your smartphone is charged and ready; that's how you report outages," says Kathleen Szot of NIPSCO.
Some condo associations are encouraging residents to bring in or batten down any grills, furniture or other loose objects from balconies. Some even canceled scheduled window washing in deference to expected winds.