CHICAGO (WLS) --
Storms that moved through the Chicago area Wednesday night caused trees to topple over onto homes and roads in northwest suburban Antioch. Thursday, residents of the East Loon Lake subdivision spent the day cleaning up.
Neighbors said the storm came and went within minutes. Anita White-Brown remembered shutting her windows before taking cover.
"My mom and I ran and got in the bathroom," she said. "We could hear some of the trees snapping."
There was no damage to her home, but right next door, a tree landed on top of a house.
"We went over today and took a look at it. It is a mess. I don't think they are going to salvage it, but the whole neighborhood is just a nightmare," said White-Brown.
Down the road, a family spent the day cleaning up after the high winds brought down large branches onto the roof of their house. The home was recently remodeled, said Dawn Lacas. Lacas' 73-year-old mother lives there.
"My mom...is very stressed out," said Lacas. "She is very spooked by the whole thing. She was in the room where the tree hit."
Those same storms
caused some flooding along the Fox River in northwest suburban Algonquin.
Crews put cones up on River Road to alert drivers to gravel that washed down onto the street. Picnic tables along the river were sitting in water and some trees were surrounded.
The current was strong Thursday morning, but police said there was no threat to nearby residents.
Heavy rain and wind took down a tree in west suburban Glendale Heights. A nearby home did not appear to be damaged, but it was a close call.
A funnel cloud was spotted over Belvidere, Ill., where three inches of rain came down Wednesday night. The most rainfall was reported in nearby Rockford. Five inches of rain fell there.
There is no rain expected during the Thursday morning commute, but isolated storms are expected between 3 p.m. and 6 p.m. The most storms, with heavy rain possible, are expected between 7 p.m. and midnight. Highs will be in the 80s Thursday.
Doppler 7 MAX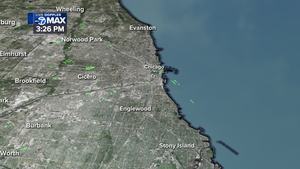 CLICK HERE to see the latest radar view from LIVE Doppler 7 MAX
CLICK HERE for the latest 7-day outlook from the ABC7 Weather Team: