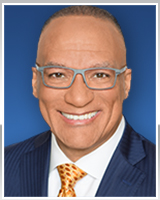 Since joining ABC 7 in 1982, Jim Rose has become a major force in Chicago sports broadcasting. He currently serves as sports anchor/reporter for the station's top-rated 4:00 and 6:00 p.m. newscasts.

Rose is a contributor to ABC 7's Emmy Award winning People, Places and Things, a series of specials that celebrates the rich culture of the African-American community in Chicago. Each August, Rose also hosts ABC 7's annual broadcast of one of the largest parades in the country, the Bud Billiken Parade.

Prior to joining ABC 7, Rose served as a weekend sports anchor and play by play reporter at WIXT-TV in Syracuse, N.Y. from 1977-82. During this time, he also hosted and produced Sportsweek Nine, a weekly sports magazine, and WIXT's The Halftime Report. During his college years, he worked as a sports anchor at WPRO-TV in Providence, R.I. (1975-77).

Rose began his career in sports broadcasting while serving in the U.S. Army, acting as sports director for AFN-TV in Berlin, West Germany (1973-75).

He has won several awards for his work, including the 1981 Best Sports Story Award from the Syracuse Press Club for his Sportsweek Nine segment on the Sugar Ray Leonard/Larry Bonds title fight. The Syracuse Press Club also honored him in 1980 for "Best Reporting under Deadline Pressure," and in 1979 for "Best Sports Story."

Rose is the vice president of the Swan Group, a non-profit group created to give away the "Swan House" to a Chicago area single mother who achieved academic excellence in college. After 4½ years of sweat equity, along with an outpouring of community donations, Rose's hard work came to fruition. In October 2006, he handed the keys of a 2,000 sq. ft. house over to a single mother with two children and a 3.8 grade average. Despite the many honors he has received during his career, Rose considers this "one of his life's crowning achievements."

Rose participates as a mentor to the Chicago Public Schools and Harold Washington College. In addition to participating in the "Real Men Read" program, Rose continues to volunteer his time to help many charitable groups and worthy causes throughout the Chicago land area.
Rose earned a Bachelor of Arts in Mass Communications from Rhode Island College in 1977. He is the proud father of two children, Jayson and Suzette.

---