CHICAGO (NEWS RELEASE) --
The National Multiple Sclerosis Society, Greater Illinois Chapter will hold its largest annual fundraising event, Walk MS, on Sunday, May 1, 2016. This year, the Chicago Walk has moved from its previous Grant Park location and will take place at its new site in Lincoln Park, Grove 2, 1746 N. Stockton Dr., Chicago. Walk MS brings people together to celebrate the progress and powerful connections made in the movement to end MS, and raises funds for critical MS research and services.
"Everyone is excited to be there," says Carol Murphy, whose team, Walk Like a Prescription, has participated in the Chicago Walk since 2013. "It sounds really cheesy, but once you get there, you see all the teams, and you realize we're all on the same team. We're all working together on the same solution."
Thousands of people participate in Walk MS each year to fulfill the Society's mission of a world free of MS. Last year, more than 12,200 people came out to 13 Walk MS events across Illinois, raising over $2.6 million to fund MS research, programs and services, making it one of the largest fundraisers in the nation.
The Walk will begin at 11 a.m., and participants can choose to walk anywhere from one to three miles. Walk-up registrations will open at 9:30 a.m.
"This is an important day of the year for so many people impacted by MS," says Greater Illinois Chapter President Holly Messick. "Whether it's through participating at one of our Walk MS sites, volunteering, fundraising or recruiting a friend or family member to be part of the event, the amazing turnout of thousands of supporters helps those affected by MS live their best lives."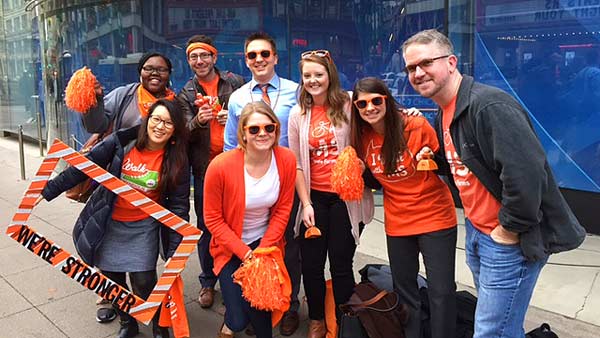 Walk MS does not have a registration fee, but as a fundraising event, participants are encouraged to raise funds to support the Society's mission. There will also be 10 additional Walks across the state on May 1, which include: Bloomington, McHenry County (Lake in the Hills), North Shore (TBD), Northwest Suburbs (Hoffman Estates), Rockford, St. Charles, South Suburbs (Orland Park), Southwest Suburbs (Lockport), Springfield and West Suburbs (Naperville).
To learn more, register or make a donation, visit
walkMS.org
, or contact Meghan Melone at 312-423-1138 or at meghan.melone@nmss.org.
Multiple sclerosis is an unpredictable, often disabling disease of the central nervous system that disrupts the flow of information within the brain, and between the brain and body. The National MS Society mobilizes people and resources to drive research for a cure and to address the challenges of more than 20,000 individuals in Illinois and 2.3 million worldwide affected by MS. For more information, visit
MSIllinois.org
.