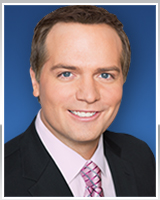 Veteran meteorologist Larry Mowry returned to ABC 7, the top-rated television station in Chicago, in April, 2016. Mowry is a skilled meteorologist, adept in predicting Chicago weather with the assistance of a powerful new, state-of-the-art tool, Live Doppler 7 Max, the only radar of its kind (S-band, dual pole) built for a commercial station in the U.S. Mowry covers the weather for the 4 and 6 PM weekday newscasts as well as the 7 PM newscast on The U, WCIU-TV.

Mowry is an AMS Certified Broadcast Meteorologist who has excelled in severe weather coverage. He first worked as an ABC 7 meteorologist in 2004.

Upon his return to ABC 7, News Director Jennifer Graves said, "We are absolutely thrilled Larry is once again on our team. Not only is he an experienced meteorologist, but he connects to Chicago viewers and is a commanding and reliable presence when severe weather breaks."

Mowry joins ABC 7 from KTVT, the CBS station in Dallas, Texas where he was the chief meteorologist for the station's 5, 6 and 10 PM weekday newscasts. He joined KTVT in 2008.

From 2005-2008, he worked as the Morning meteorologist at WKMG the CBS station in Orlando, Florida.

Prior to that, he was ABC 7's Saturday morning meteorologist in 2004.

Larry Mowry was honored by the National Academy of Television Arts and Sciences Chicago/Midwest Chapter with an Emmy Award for "Outstanding On Camera Talent - Weather Anchor." During his career, Mowry garnered ten Lonestar Emmy Awards and for four out of the past six years has won the Lonestar Emmy for Best Weathercaster in the state of Texas.

Mowry is returning to his Midwestern roots. He was born and raised in Loudonville, Ohio and recalls he knew he wanted to be a meteorologist as early as his senior year in high school. He pursued that dream in college and graduated Cum Laude from Valparaiso University in Indiana with a Bachelor of Science in Meteorology.


---