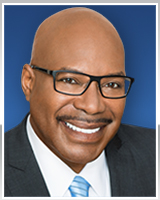 Hosea Sanders is the co-anchor of ABC 7 Eyewitness News on WCIU The "U", a primetime newscast at 7 pm weeknights on WCIU-TV Channel 26.

He joined ABC 7 in August 1994. Sanders plays a major role at ABC 7, both in the news and programming areas. Prior to his primetime anchor assignment he co-anchored the station's 4:30-7:00 am morning newscasts. Sanders also hosts such important local specials as "Operation Save-A-Life" the station's fire safety program credited with helping decrease fire fatalities and a salute to John Johnson, honoring Chicago's iconic black publisher. He is a featured reporter on ABC 7's Emmy Award winning "Heart and Soul" program focusing on Chicago's African-American community. Sanders also serves as an on-air host for the station's Annual Holiday Food Drive for the Greater Chicago Food Depository. He serves as media host for the Anti-Cruelty Society's Annual "Bark-in-the Park" celebration and fund-raiser for their pet adoption campaign along Chicago's Lakefront. Since 2010, he has been featured in the Prostate Cancer Awareness campaign aimed at encouraging men to be screened for the disease.

Previously, Sanders worked at KCBS-TV in Los Angeles where he reported and anchored the weekend news (1986-94). He served as an entertainment reporter, providing regular coverage of major Hollywood events to CBS stations across the country. While in Los Angeles, he also hosted several weekly talk shows: "Two The Point," "Newsmakers," and "At Issue." In addition, he hosted the KCBS broadcasts of the annual Martin Luther King Day Parade. Earlier in his career, Sanders was a weekend anchor and reporter at KDFW-TV in Dallas, Texas (1981-86). He gained his first television experience at KARK-TV in Little Rock, Arkansas (1980-81). After working at several radio stations and newspapers in the state of Arkansas.

Sanders has won eight Emmy Awards, gaining honors for live coverage, spot news, entertainment reporting, news writing, and overall news achievement. In 2009, he was honored with two Emmy Awards; one for his environmental reports in the popular twice-weekly segment "Live Green With ABC7" and the other for co-hosting ABC 7's hour long, nationally syndicated program The Magnificent Mile Light Festival. In 2003, he won the Illuminati Award from Chicago's Institute for Positive Living. In 2001, he was named an "Outstanding Communicator" with Alpha Kappa Alpha's Monarch Award and was also honored with the "Best Image in Chicago Television News" from the International Association of Image Consultants.

In addition, Sanders has received more than one hundred awards from various civic and community organizations, including a "Man of the Year" award from Alpha Kappa Alpha, multiple commendations from the Shriners organizations, an award of merit from Chicago Federal Employees Association, and special awards from the Chicago Urban League. He was presented the 2011 "Diogenes Award for Excellence in Media" from the Better Business Bureau of Greater Chicago.

Sanders is a nationally sought-after motivational speaker who is dedicated to mentoring and helping young people. He is active in the Alpha Phi Alpha Big Brothers program, the Chicago Public Schools Mentoring Program, and the NAACP Mentoring Program, and also volunteers for the North Lawndale Employment Network

In addition, Sanders serves on the board of the Open Book Literacy Program and has volunteered with the Chicago Urban League, The United Way and Operation PUSH. He is a member of the National Association of Black Journalists, the Chicago Association of Black Journalists, and the National Academy of Television Arts and Sciences. Since 2009, Sanders served as host of the Chicago Sinfonietta's Annual Gala, which raises funds for what's described as the nation's most diverse orchestra.

A former state champion sprinter, Sanders graduated from Henderson State University in Arkansas, where he received his B.A. degree in Communications and Journalism in 1978. Sanders currently resides in Chicago's West Loop.

---