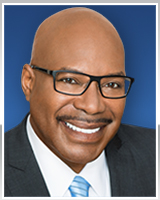 Hosea Sanders plays a major role at ABC 7, both in the news and programming areas. Sanders is a main contributor for the Chicago Proud series of stories which give voice to everyday Chicago area heroes. He also covers key disability related stories on the weekend news called "Celebrating Ability." Sanders's reporting on the disability beat was lauded in a story published in the Columbia Journalism Review. On the programming side, Sanders hosts ABC 7's Emmy Award winning series, Heart & Soul, which showcases Chicago's vibrant African American community. He also helps host one of the highest rated local shows in Chicago, the popular New Year's Eve special, Countdown Chicago, as well as ABC 7's Bud Billiken Parade broadcast, celebrating a summer tradition in the African American community which is one of the biggest parades of its kind in the country. Sanders is also one of the on-air faces representing important station initiatives including the ABC 7/The American Red Cross Great Chicago Blood Drive and the food drive done in conjunction with the Greater Chicago Food Depository and the Northern Illinois Food Bank.

Prior to ABC7, Sanders worked at TV stations in Los Angeles, Dallas and Little Rock, Arkansas.

Sanders has won 14 Emmy Awards, gaining honors for live coverage, spot news, entertainment reporting, news writing, programming and overall news achievement.

He has received more than 100 awards throughout his career from various churches, civic and community organizations for his community service.

A nationally sought-after motivational speaker, Sanders has worked with several groups mentoring young people in Chicago. He enjoys volunteering and speaking with local senior citizens.

He is active in the Alpha Phi Alpha Big Brothers program, the Chicago Public Schools Mentoring Program, and the NAACP Mentoring Program.

He is a member of the National Association of Black Journalists, the Chicago Association of Black Journalists, and the National Academy of Television Arts and Sciences.


---