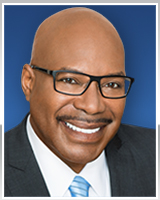 Hosea Sanders is a 17-time Emmy Award-winning broadcast journalist. Since joining ABC 7 Chicago in 1994, he has played a major role serving as News Anchor, Entertainment Reporter and program host at Chicago's top-rated station. Sanders provides entertainment coverage for ABC 7 Chicago and other ABC owned-and-operated stations across the country. He also presents the "Chicago Proud" series of stories which give voice to everyday Chicago area heroes. In addition, Sanders spotlights the differently-abled community in a regular series of stories called "Celebrating Abilities." His reporting on this beat was lauded in a story published in the Columbia Journalism Review.

On the programming side, Sanders hosts ABC 7's Emmy Award-winning series, "Our Chicago: Black Voices of Change" (formerly "Heart & Soul"), which showcases Chicago's vibrant African American community. He also helps host one of the highest rated local shows in Chicago, the popular New Year's Eve special, "Countdown Chicago", as well as ABC 7's Bud Billiken Parade, the largest African-American parade in the nation. In addition, he is one of the faces of the ABC 7 Great Chicago Blood Drive in partnership with the American Red Cross of Illinois, as well as the station's annual food drive campaign benefitting Greater Chicago Food Depository and the Northern Illinois Food Bank.

Sanders is in constant demand nationally as a public speaker and has received more than 100 awards for community service.

He is a member of Alpha Phi Alpha Fraternity and has worked at TV stations in Los Angeles, Dallas and Little Rock, Arkansas. He is a member of the National Association of Black Journalists, the Chicago Association of Black Journalists, and the National Academy of Television Arts and Sciences.
He makes his home in Chicago's West Loop.






---