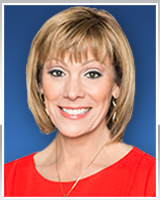 Emmy Award-winning Traffic/Transportation Anchor Roz Varon, was the first TV traffic anchor in the country to bring rush hour traffic reporting to the morning news. She joined ABC 7 News as Morning Traffic Anchor in April 1989 and is currently the station's Traffic/Transportation Anchor for the top-rated ABC 7 News This Morning. She not only updates Chicagoans on traffic snarls and travel times, but provides extensive coverage of the transportation beat.

"Roz on the Road," Varon's must-read blog, covers a wide range of topics, from construction challenges to life challenges. Her entries on trips she's taken in the U.S., Europe and Israel are complete with interesting insights, photos and videos.

Varon is a master of social media and many Chicagoans rely on Roz's traffic tweet throughout the day.

Varon hosts "Weekender" and entertainment round-up each Friday on the ABC 7 News at 4 p.m. For the past six years, Varon has been an important part of ABC 7 and the Chicago Fire Department's fire safety public service campaign, "Operation Save-A-Life."

Before joining ABC 7, Varon was part of the morning team at WFYR Radio in Chicago. Earlier in her career, Varon worked as an on-air personality at WLAK/WLIT Radio in Chicago and at Chicago's WUSN Radio. Varon began her career at WLS Radio in Chicago as an airborne traffic reporter.

Varon has received many awards and honors for her work including multiple Emmy Awards. Most recently, she was honored with Peter Lisagor Award for her series "Interstate Identities." The Girl Scouts honored her as a role model with their "Smart Cookies" Award, and the Illinois Broadcasters Association honored her with a Silver Dome Award for her breast cancer special, "Faces of Inspiration."

Varon is a 2006 breast cancer survivor. She works diligently to help heighten cancer prevention and awareness and is an in-demand motivational speaker. As an advocate, she works with the American Cancer Society's "Making Strides against Breast Cancer."

Varon volunteers much of her time to charitable organizations such as the Anti-Cruelty Society and Girl Scouts. Since 2000, Varon has served on the Board of Governors of the Chicago/Midwest Chapter of the National Academy of Television Arts & Sciences.

Varon received a B.A. in Broadcast Communications from Columbia College. She resides in the western suburbs of Chicago with her husband, daughter, two dogs and a cat.

---