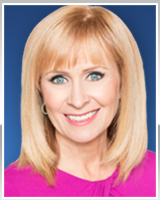 Tracy Butler has been the meteorologist for ABC 7 News This Morning since 1995 and now also provides weather updates during ABC 7's daily talk and entertainment program, Windy City LIVE. She joined ABC 7 in 1994.

Butler also co-hosts ABC 7's the annual summer broadcast of the Chicago Air and Water Show. From 1993 to 2002, Butler filled in for weather anchors Spencer Christian and Tony Perkins on ABC's Good Morning America.

Before joining ABC 7, Butler anchored the morning and noon weathercasts at WRIC-TV in Richmond, VA. (1992-93). Earlier, she was the chief weather anchor at WFMJ-TV in Youngstown, OH (1988-1991).

Butler began her broadcasting career as a weathercaster at WTRF-TV in Wheeling, WV. (1988).

Butler is a sealed member of the National Weather Association and the American Meteorological Society. She was named "Woman of the Year" by the Executive Women's Golf Association and has won the Illinois Treasurer's Public Service Award. In 2012, she was honored to receive the Public Education Award from the Illinois Chapter of the MS Society. She was recognized in 2014 with an Emmy Award, along with the ABC 7 Weather Team, for the special "Surviving the Storm."

In 2013, she along with co-director, Scott Woodruff, started a golf outing called The Duke Classic, to honor the memory of long-time ABC 7 cameraman, Michael Dukewich, who passed away in 2012. The outing has raised nearly $60,000 to benefit the Greater Chicago Food Depository & the Wounded Warrior Project.

Butler promotes the talent of children through her Weather Sketcher's Club, which encourages children to send their weather-related drawings for potential airing on ABC 7 News This Morning. "I LOVE seeing how children express their creativity through markers, crayons, paints and pencils. Their interpretations of weather elements on paper bring new eyes to something that affects us all!" Students ages 13 and younger can send their weather-related drawings to ABC 7, 190 North State Street Chicago, IL 60601.

Butler earned her B.S. in Broadcasting from Indiana University of Pennsylvania, and was awarded her meteorology certification from Mississippi State University in 2001. She is married and has two children. She loves to golf and often participates in charity golf outings.



---