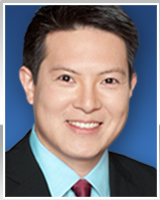 Eric Horng joined ABC 7 Chicago, the city's top-rated news station, as general assignment reporter in August 2010.

He came to ABC 7 Chicago with a wealth of experience and an outstanding reputation as a journalist. Based out of Chicago as an ABC News Correspondent, Horng reported for all major ABC News platforms including "World News," "Nightline," "Good Morning America," ABC News Radio, ABC News NOW and ABCNEWS.com. He was also a regular fill-in anchor for early morning programs "World News Now" and "America This Morning."

During his time with ABC News, Horng covered a number of major stories including the Northern Illinois University shooting, the Minneapolis bridge collapse, Terri Schiavo legal battle in Florida and the Michael Jackson criminal trial in California. In 2005, Horng filed live reports from Louisiana during and after Hurricane Katrina made landfall. On election night in 2008, he filed reports from Chicago's Grant Park; the site of President Obama's victory speech.

Before joining ABC News in 2003, Horng was a correspondent for CNN. He was based in Atlanta from 1998 to 2000 and Los Angeles from 2000 to 2003. At CNN, he reported on several high-profile stories, including the Elizabeth Smart kidnapping case, the Shuttle Columbia disaster, the Elian Gonzalez custody fight and the Academy Awards.

Horng is a native Chicagoan who grew up in suburban Darien and Northbrook, Illinois. He is an honors graduate of Glenbrook North High School and graduated from the University of Illinois at Urbana-Champaign with Bronze Tablet honors which recognize the top one-percent of college graduating classes. Horng is an avid Chicago sports fan.

---