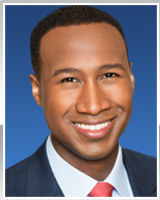 Terrell Brown anchors ABC 7 Eyewitness morning newscasts from 4:30 to 7:00 am as well as the 11 am weekday newscasts at the #1 television station in Chicago. He joined ABC 7 Eyewitness News as a General Assignment Reporter and Contributing Anchor in April 2014.

Prior to joining ABC 7 Eyewitness News, Brown was an Anchor/Correspondent at CBS News where he anchored Up to the Minute, the CBS Morning News and served as fill-in anchor for the weekend editions of CBS Evening News. Following the Colorado theatre massacre, Brown anchored CBS' Special Report. As a correspondent, he's covered some of the nation's biggest stories including the Boston Marathon bombing, superstorm Sandy, the Cleveland kidnappings, the BP Gulf oil spill, the devastating tornadoes in Missouri and Alabama and the attempted terror attacks on the U.S. in Detroit and New York City.

Brown reported from the White House lawn and U.S. Capitol during the healthcare reform and looming government shutdown, the 2011 Academy Awards in Los Angeles and the 2010 Super Bowl in Miami.

Brown was honored with a 2014 national Emmy Award for his work on a 48 HOURS special report detailing the manhunt and capture of the Boston Marathon bombing suspects. After covering the campaign trail for the 2010 elections in California, he was awarded a Los Angeles area Emmy Award. He was at CBS News from 2009 through 2014.

From 2005-2009, Brown was an anchor/reporter for WWBT-TV, the NBC station in Richmond, Virginia, where he anchored the highest rated weekend morning newscast and filled-in on weekday newscasts. While there, he also contributed to much of the station's award-winning live and breaking news new coverage.

In addition to winning national and local Emmys, Brown was honored for his accomplishments in Broadcast Journalism with a National Press Club Award. He was named one of Virginia Commonwealth University's Top 10 graduates of the Last Decade. He was honored with the Chicago Defender's Men of Excellence Award and was nominated for Outstanding Achievement as a news anchor in the Chicago/Midwest Emmy Awards.

He is a member of the National Association of Black Journalists and a graduate of Virginia Commonwealth University.

Just months after he joined ABC 7, Brown showed nerves of steel when he volunteered to ride with the U.S. Navy Blue Angels at the Air & Water Show. He survived the challenge with flying colors but quipped, "Riding in a jet travelling at 700 mph was quite a thrill....a thrill I won't be undertaking any time soon."

Follow Terrell Brown on FB and twitter @tbrownabc7.

---