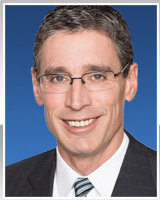 Garcia is a general assignment reporter for ABC 7 News, Chicago's top-rated station for news. He joined ABC 7 Chicago in 1994 and served as co-anchor of ABC 7 Sunday Morning News from 1995-97.

Garcia came to ABC 7 from KSAT-TV, the ABC station in San Antonio, Texas, where he co-anchored the morning and noon newscasts (1994). Previously, he worked as a reporter and fill-in anchor at KXAS-TV in Dallas, Texas (1991-94).

From 1988-91, Garcia served as a reporter and fill-in anchor at KOAT-TV in Albuquerque, N.M. Earlier in his career, he was a reporter and weekend anchor at KMID-TV in Midland, Texas (1987-88) and a reporter at KTIV-TV in Sioux City, Iowa (1986-87).

Garcia has been honored with numerous awards, including several Chicago Emmy nominations and an Illinois Broadcasters' Association Silver Dome Award. He was chosen for the 1999 Drake University Young Alumni Achievement Award. He won recognition from the Associated Press with their award for Best Series and received Best Spot News honors from the Northwest Broadcasters Association (1986-87). He also won the Dallas Katie Award for spot news.

Garcia is active on the boards of the South Chicago Mexican-American Patriotic Club and serves as the president of the Drake University Journalism National Alumni Board. He is an active volunteer for the Respiratory Health Association. He is a member of the Chicago Association of Hispanic Journalists and the National Association of Hispanic Journalists.

An avid runner, Garcia has competed in numerous marathons including the Chicago and Boston Marathons. Check out his blog, www.runningnewsguy.abc7chicago.com/.

Garcia is a Chicago native. He earned his B.A. degree in Broadcast Journalism in 1986 from Drake University in Des Moines, Iowa. He resides in the western suburbs with his daughters.

---