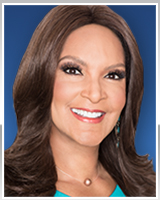 Chicago native and Emmy Award-winning anchor/reporter, Cheryl Burton, anchors two of the #1 rated newscasts in Chicago. Burton anchors the ABC 7 Eyewitness News at 5 PM and in June 2018, was promoted from contributing anchor to anchor of the station's 10 PM newscast. She also anchors ABC 7's primetime newscast on WCIU-TV at 7 PM. Burton joined ABC 7, the most watched station in Chicago, in 1992 as an ABC 7's weekend co-anchor and reporter.

Burton's reporting has taken her to the heart of Chicago neighborhoods, across the United States, and around the globe. One of the highlights for her career was covering the historic inauguration of President Barack Obama. Whether she's covering the opening of Oprah's school for girls in South Africa, exposing the plight of one of Illinois' poorest schools or assessing the aftermath of Hurricane Katrina, Burton brings compelling stories home to Chicago. She is dedicated to exposing injustices and bringing the stories of the underprivileged to the forefront. She interviews celebrities, political candidates, world leaders, sports figures and ordinary citizens with her trademark warm and insightful approach that gives viewers a unique perspective of people in the news. Her reporting style has been described as refreshing, informative, committed, investigative and smart.

Burton notes that some of her most special life moments include her annual winter holiday toy drive benefiting children living in domestic violence shelters and the once in a lifetime experience as an honored guest at the Oprah's Legends Ball.

Cheryl was granted the only and final interview from Oprah Winfrey before she bid farewell to her daytime talk show after 25 years. That exclusive interview covered a quarter of a century of love lessons, joy, legacy and what the "Queen of Talk" called an adventure of a lifetime. Oprah also talked about how Chicago changed her life, her favorite guests and about the interviews she wanted but was never able to land. She also discussed her future and why she credits her success to the Windy City. The exclusive interview was featured on Good Morning America.

Burton has received many honors for her work including several Emmy Awards. Most recently, her work covering the inauguration of Chicago's Barack Obama, Journey to Witness History, The Obama Inauguration, garnered her a 2009 Emmy Award. Also in 2009, Burton received the 2009 Procter and Gamble Pioneer Award for community service. Burton won the coveted 2008 National Association of Black Journalists (NABJ) Salute to Excellence International Award for her coverage of the opening of the Oprah Winfrey Leadership Academy in South Africa. Also in 2008, she was awarded the Vernon Jarrett Par Excellence Award in journalism. She was the first recipient of the 2005 "Sisters in the Spirit" Award, given by Chicago area gospel singers to persons who exemplify a faith-based life. She was honored in 2004 and 2005 with the Thurgood Marshall Award. The Chicago Association of Black Journalists (CABJ) presented Burton with the 2004 Russ Ewing Award for the emotional story of a mother-to-daughter kidney donation. In 2003, Burton received the same award from CABJ for her coverage of the E2 nightclub tragedy. Her coverage of the Pope's visit to Canada in 2002 was lauded. She was recognized with a 1998 Kizzy Image and Achievement Award, which honors black women who have excelled in their professions. In 1997, Burton won the Phenomenal Woman Award from the expo for Today's Black Woman. Her coverage of the Million Man March earned another CABJ award in 1995.

Before joining ABC 7 Chicago, Burton was a weeknight anchor for the 6 PM news at KWCH-TV in Wichita, KS. There she was recognized for her role in a campaign that was instrumental in reducing the number of low birth-weight babies and infant deaths. She also hosted the talk show "Viewpoint" (1990-92).

In 1990, Burton served as a general assignment reporter for WMBD-TV in Peoria, IL. She began her broadcasting career at Chicago's WGN-TV as co-anchor of the nationally syndicated weekly series "MBR: The Minority Business Report" (1989).

Burton is very active in the Chicago community and gives much of her time to non-profit groups and charities. She is a volunteer for the Boys and Girls Club of America and serves as a motivational speaker for the Chicago Public Schools. She serves on the boards of the Life with Lupus Guild, the Multicultural Dance Center and City Year.
She also participates in the Rush-Presbyterian/St. Luke's fashion show. She was honored with a Grace and Beauty Award, the DuSable Museum History Maker Award and Girl Scout Camp CEO Leader. Cheryl is a lifelong and proud Girl Scout.

In addition, Burton is a member of the Society of Professional Journalists, the Chicago Association of Black Journalists and the National Association of Black Journalists. She is a member of the Delta Sigma Theta Sorority Incorporated.

A graduate of Chicago's Robert Lindbloom High School, Burton was the first alumnus to be inducted into the school's Hall of Fame in April, 2007.

Burton graduated from the University of Illinois at Urbana-Champaign with a B.S. degree in Psychology and Biology. While there she was a member of the Marching Illini, one of the nation's premiere college marching bands and had the opportunity to march in the Rose Bowl and the Liberty Bowl. She lives in Chicago.



---